Trash the Dress – Lorene & Darren's Queenstown shoot
*** Disclaimer*** All the images in this blog post were edited after midnight, on my laptop – which isn't the most reliable for brightness, colours, or contrast. So if things look to bright, or too dull, my apologies!
******
So here we are in Queenstown. And it's raining.
We flew in on Monday morning, where we caught up with Lorene & Darren, and headed out to Arrowtown for some nice casual portraits… the autumn colours were just starting to come through – give it another 2 or 3 weeks! Still, it had that great Arrowtown feel… so much yellow!
Fast forward to Tuesday.. and we wake up to rain. Heavy, pouring down rain that we can hear on the hotel roof.
Damn. Shoot is scheduled for 3pm – so we sit & hope it clears.
It doesn't.
We head down to the airport – Lorene looking gorgeous in her dress, with hair & makeup done at a salon earlier in the day, and Darren in his suit. The plan is to head up to "The Ledge" on Cecil Peak – a stunning drop-off way, way, up there.
Half way up though, as we swing around the corner of a hill, we can see that Cecil Peak is totally covered in the clouds.. so a snap decision is made to check out the ridgeline of the Remarkables. It looks promising – so, with a minimum of bumpiness, the pilot sets the chopper down at the peak, and we all jump out.
It's 5500 feet up, and freezing!
Then the cloud rolled in well & truly, and visibility was reduced to 20 or so metres. Not really the epic views we came for… but enough to get cool shots like this..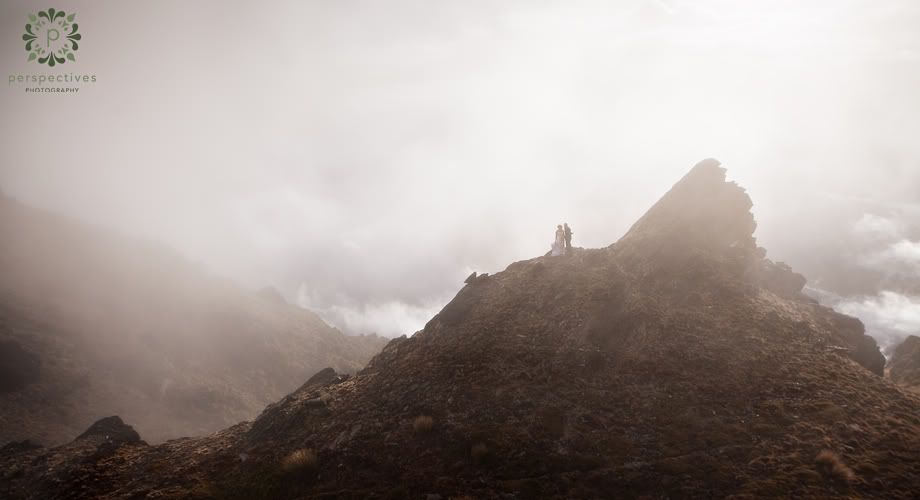 Then the cloud broke – and the sun showed it's face for the first time in the entire day!
We decided that this break in the weather, and the arrival of the sun, meant it was a good time to shoot our air-to-ground stuff.
So Amber jumped in the front seat of the chopper & slid open the tiny window, while I had a harness rigged up, so that I could basically hang out of the open door in the back. It was quite windy.. but the view was perfect – and everything fell into place.
Here's a bit of what we got from up in the air…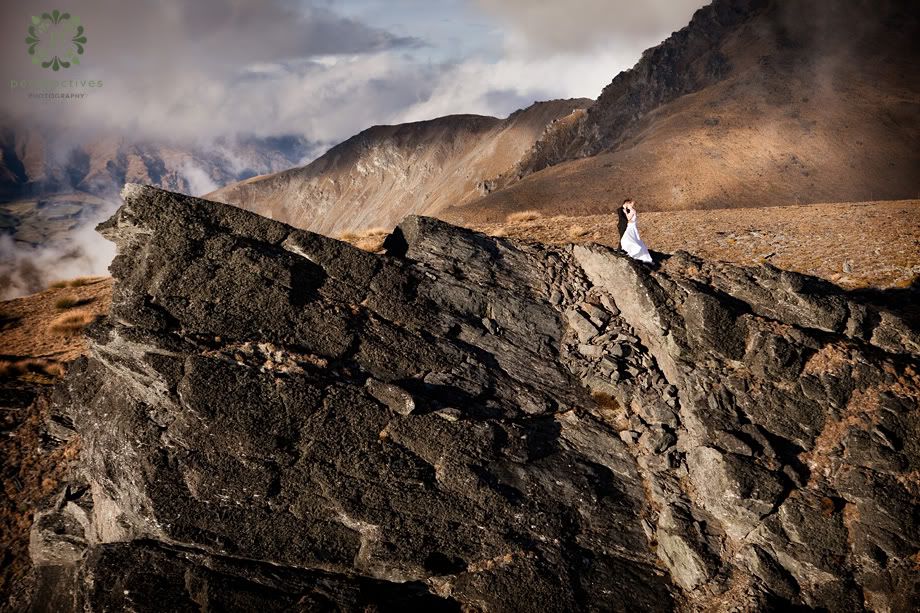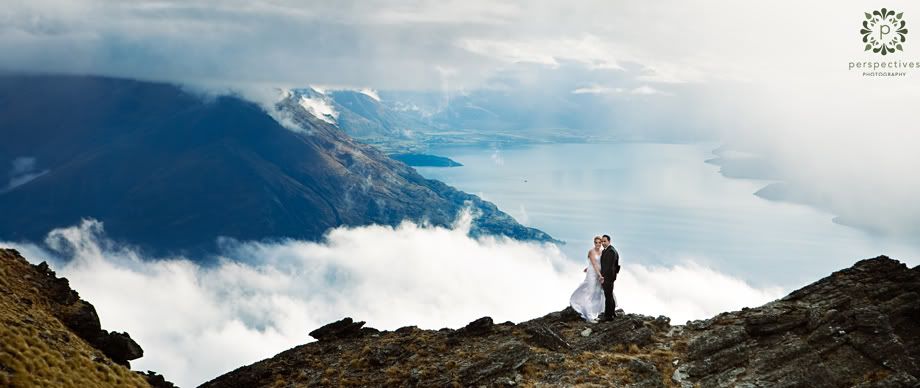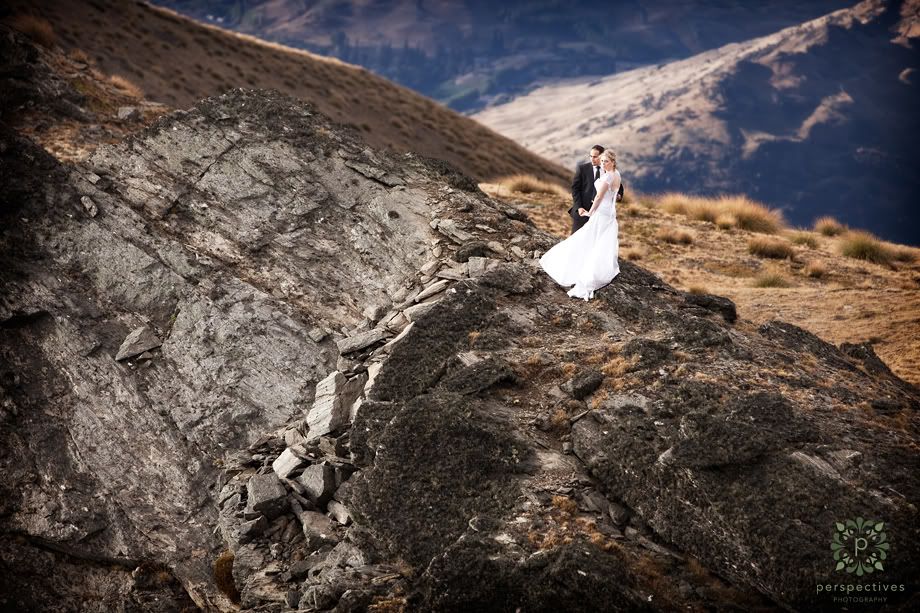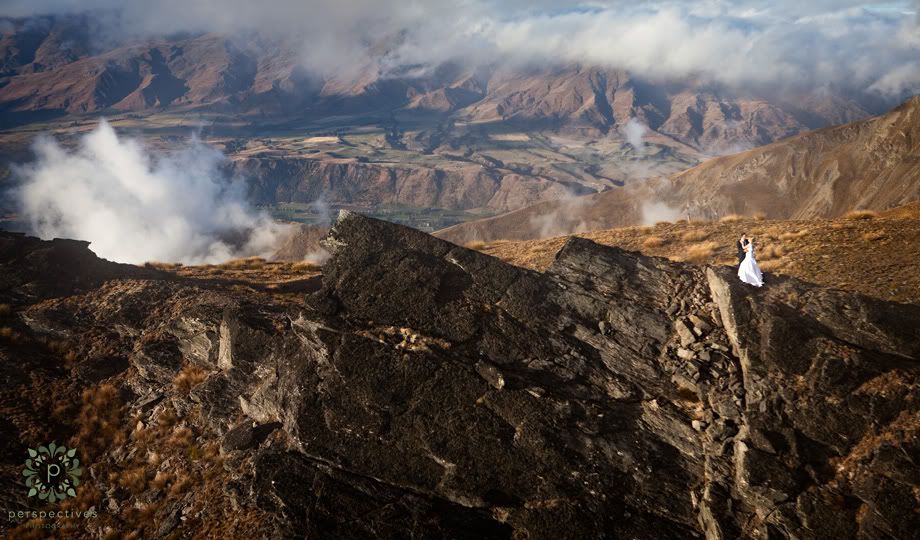 Then it was back down to collect a shivering Lorene & Darren, and off to Queenstown airport again to get warm!
On the way home, we detoured to a field (which, while asking for permission to shoot there the day before, we found out was owned by Peter Jackson!) – where we finished up with some great shots in the swishy (but very wet) grass.
It was one of the most exciting shoots of my life, and we got some great shots!
Thanks so much to Lorene & Darren for bringing us down here, and for being so easy to photograph, and for being so willing to stand in the FREEZING air on top of a mountain!
Big thanks also to "Over The Top" helicopters – who managed to manouvre us into all the angles we wanted to shoot, and being such great operators!
We think it was totally worth it 🙂
And now, it's 2am – and we fly back to Hamilton in the morning… so I'm going to get some sleep.
Over & out
PS: When we landed, it was cloudy again.. and as soon as we finished shooting in the field, the rain returned – and hasn't stopped since! Talk about meant to be! It can rain all it likes now though, and I won't even care.