Sarnia Park wedding photos – Jason & Michelle's sneak peek!
Hi guys,
On Saturday, we headed down to Otorohanga for Michelle & Jason's wedding… which was held in Michelle's family church, and then reception at Sarnia Park in Cambridge.
We left Auckland early, and headed down to Hamilton, where we caught up with Jason & his best man, Will.
They were all ready to go when we arrived (even though it was like 4 hours before the wedding) – awesome!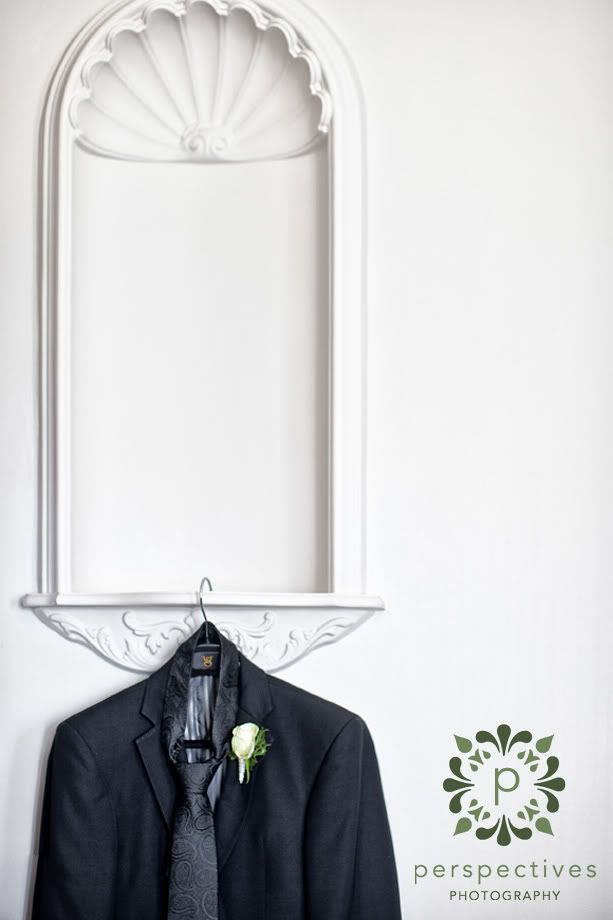 Both Jason & Will are in the NZ Navy, so they're no strangers to formal dress!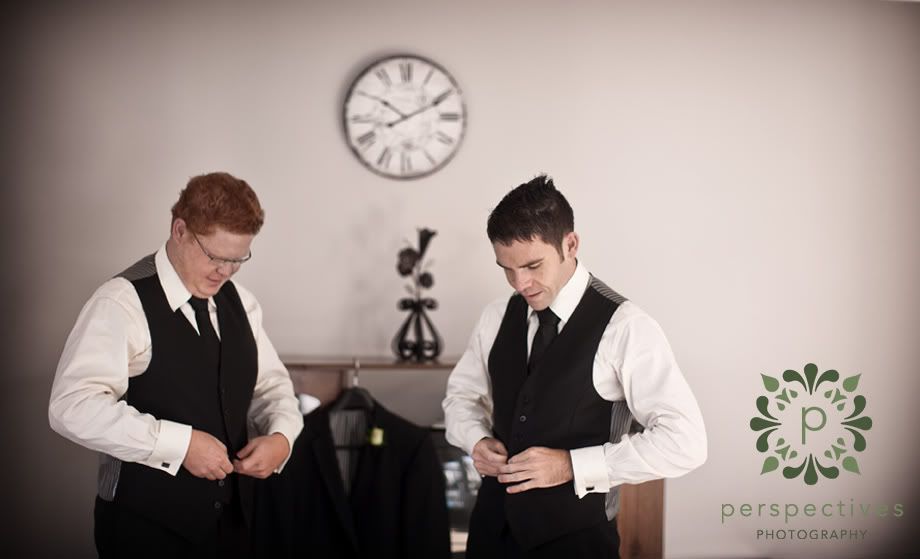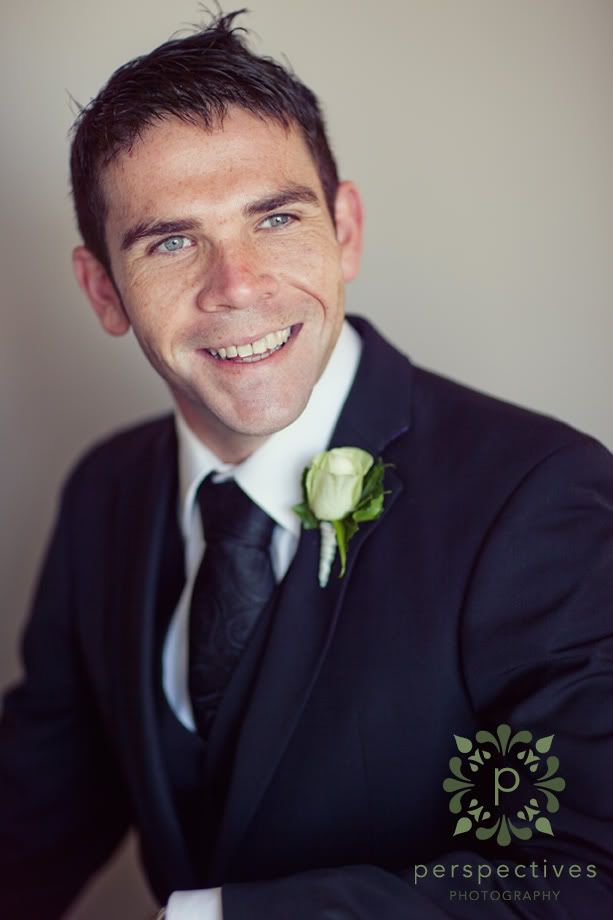 We headed outdoors for a few final shots…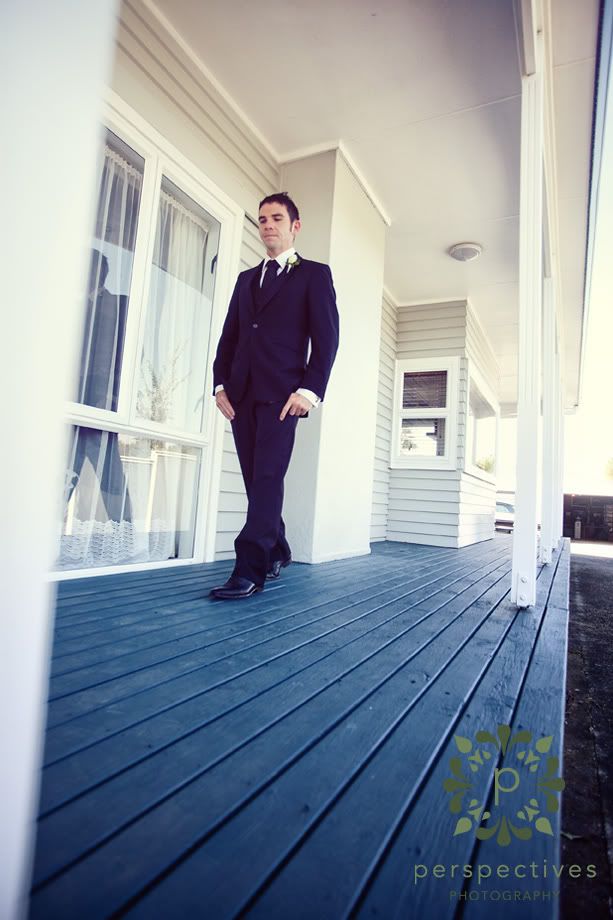 Then it was off to Otorohanga, where we arrived at Michelle's parents home – to find everyone similarly organized – woohoo! It's rare that we actually *get* the time for pre-ceremony photos that we suggest.. so the times that we do, it's always very exciting!
When we walked into the house, it was like a collection of our favourite vendors! Michelle's hair was being finished off by the mobile team from Ktizo, the gorgeous bouquets had been delivered by Karen, Rachel from Ruby Rouge had just finished the makeup, and Michelle's stunning Anna Schimmel wedding gown was hanging up, waiting to be photographed 🙂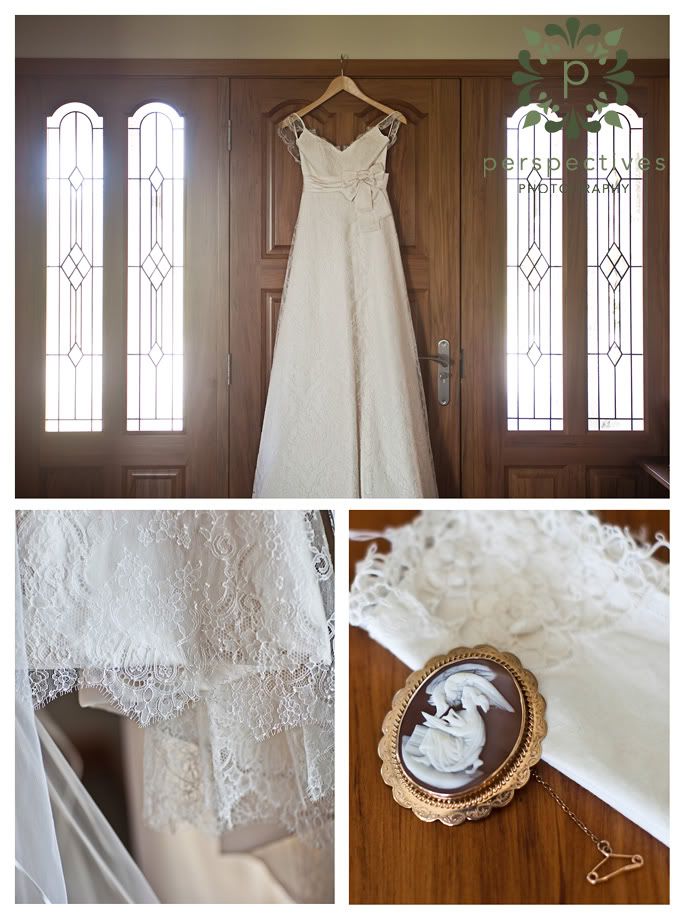 The gown had a layer of delicate lace covering it, and was topped off with this gold broach from Michelle's grandmother. It was exquisite.
Then, it was time to get into it! Michelle & her bridesmaid, Christina, needed no encouragement to get into their dresses (Christina's was a stunning Armani dress, I think Amber wanted to steal it :P).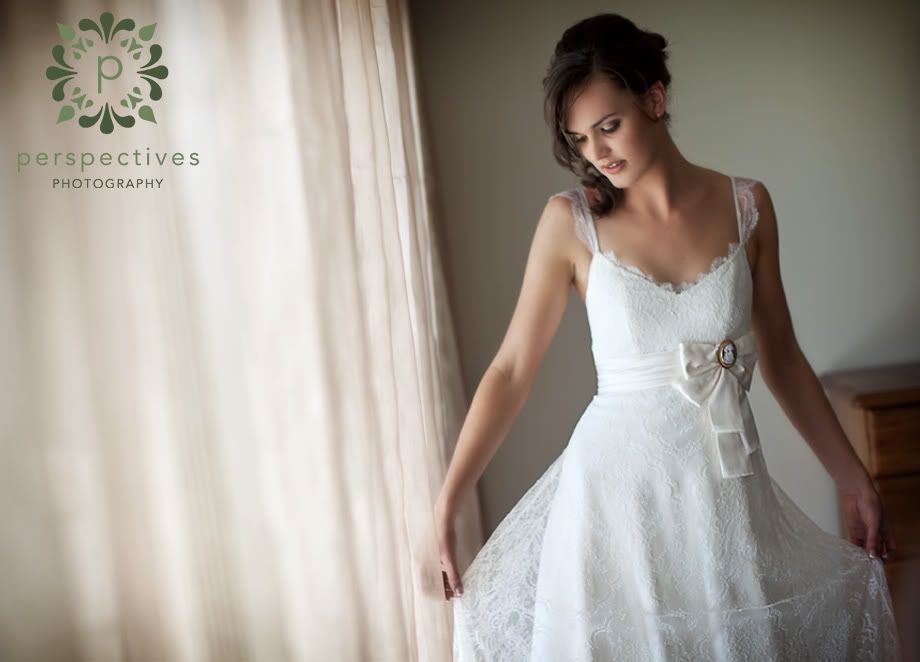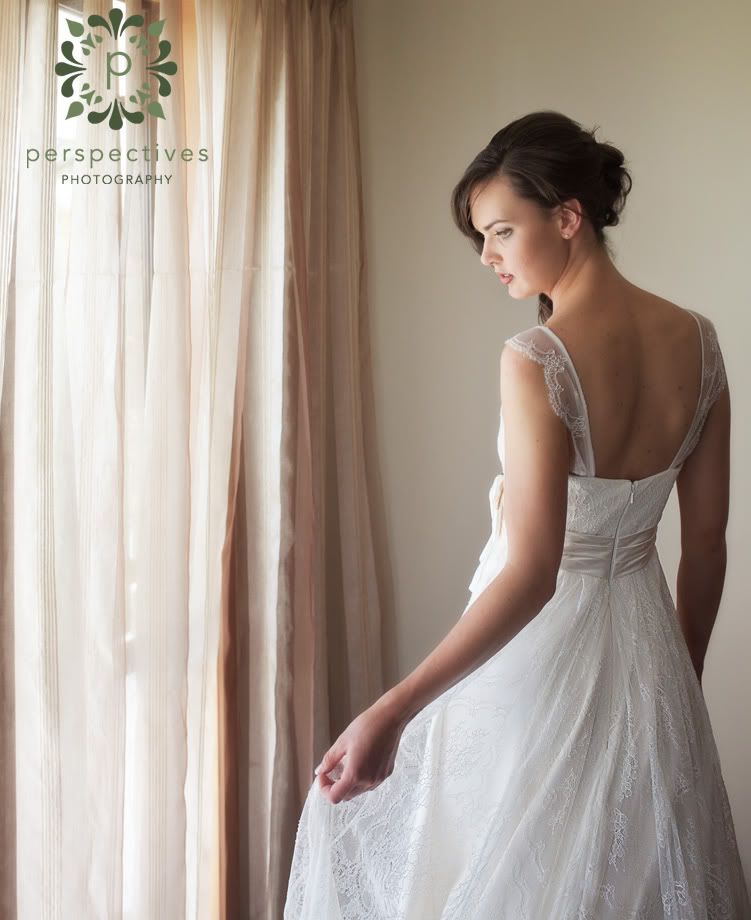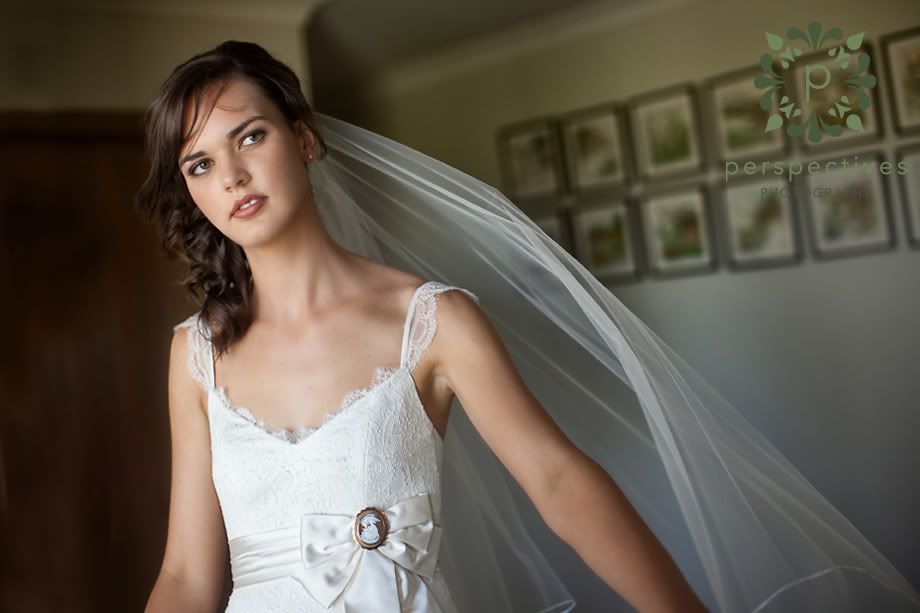 Time for a couple of last shots…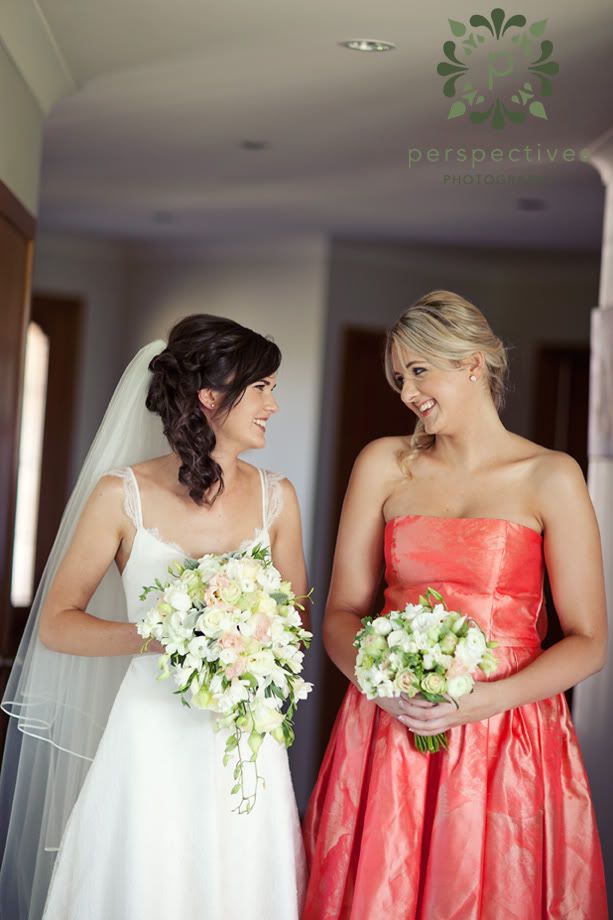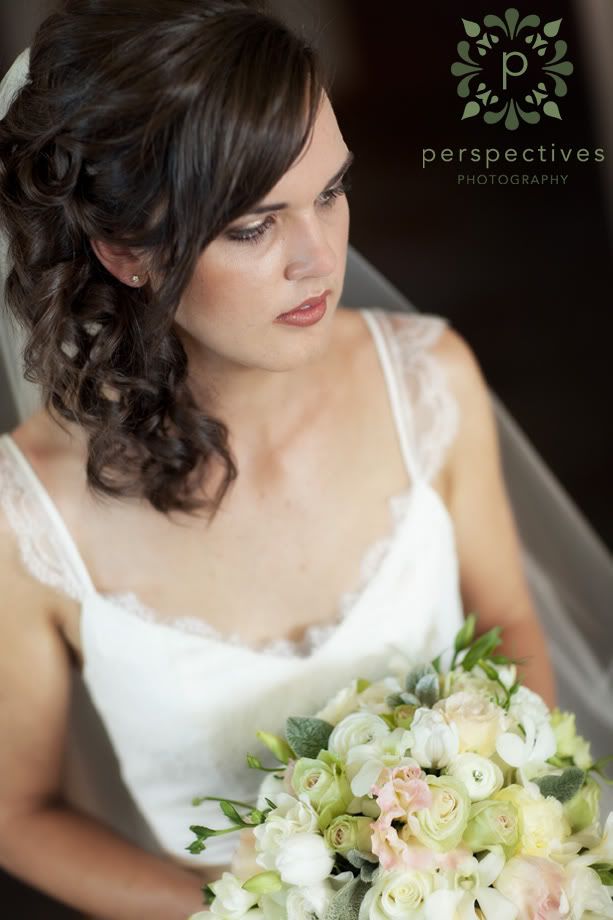 And then it was time for us to head down to the church (not even needing to rush, thanks to things running to schedule in the morning!).
It was a cute little Catholic church – and I love the fact that Michelle's grandparents, and parents, were also married in the same church. In fact, later on, we took a photograph with all 6 of them in front of the church, which matches the photos taken many years ago. So cool.
Michelle arrived – and it was time to go.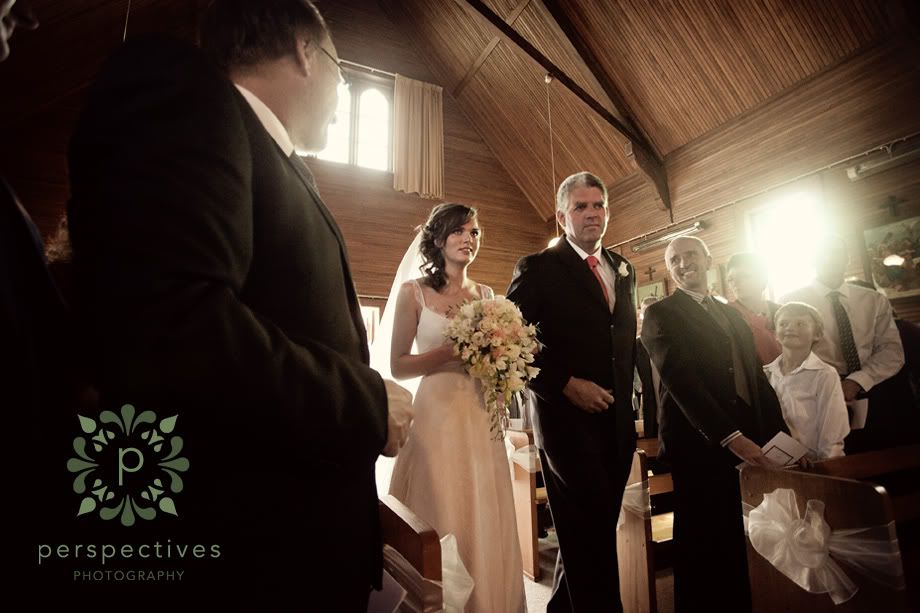 Jason when he saw Michelle for the first time..
When we're shooting inside a small church, especially if the priest has requested that no-one take photos, we're very aware of not being 'shutter happy' and firing away incessantly – as the shutters are quite loud in a small space. So… instead, we wait for the absolute key moments, and take one shot, making it count.
The funny side of this is, that Amber & I often interpret the exact same key moment – resulting in 'camera jinx'… where we hear each other's shutters go at the exact same moment. It happened so many times today, we had a little giggle afterwards. Things like when someone is doing a reading – there is a point where they glance up & make eye contact with the congregation. **double click**. Then the priest raises his hand to bless the rings. **double click**. Or – during the sermon… Jason & Michelle take a quick glance at one another and a smile. **double click**. Here's one of those moments, from each of our cameras. This took about half a second.. and we each took only one frame.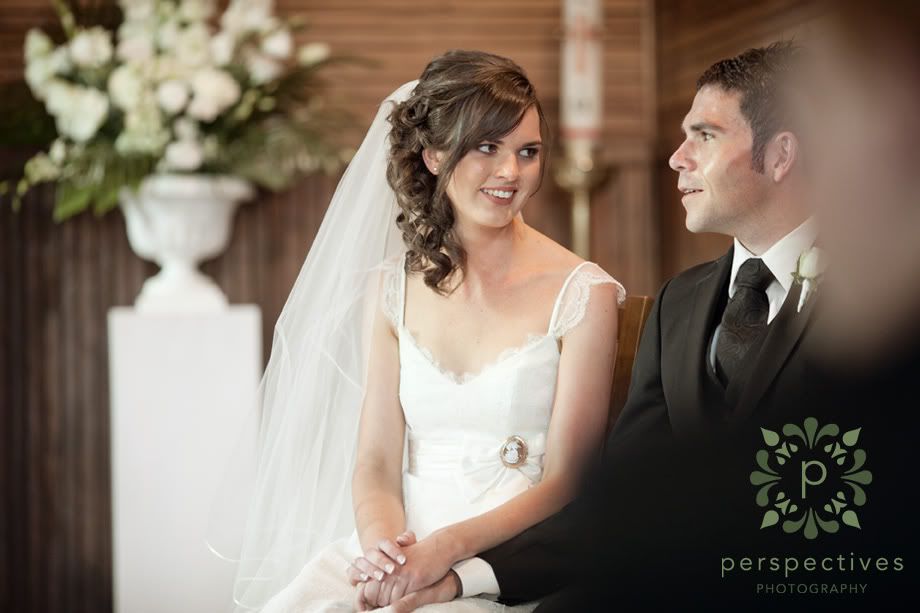 During the vows, there were a few tears..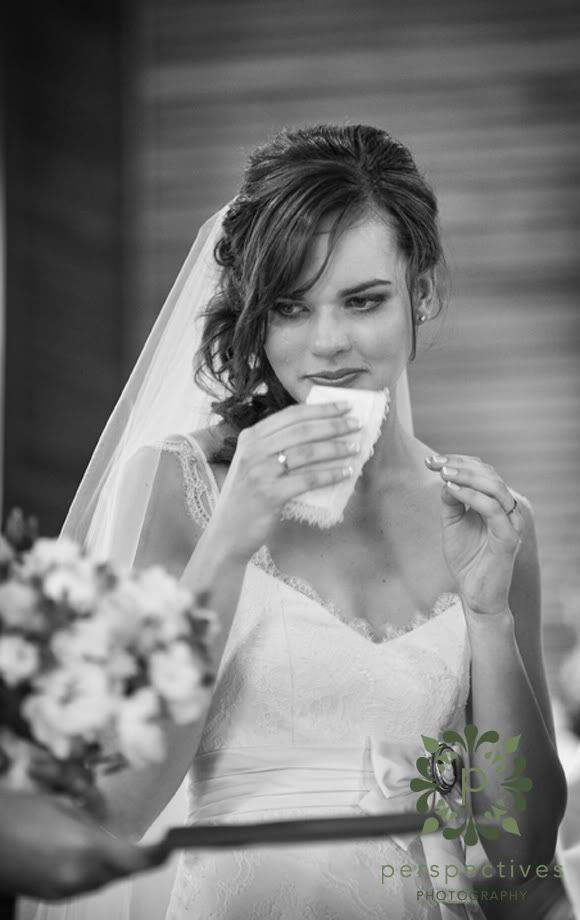 And a perfect first kiss…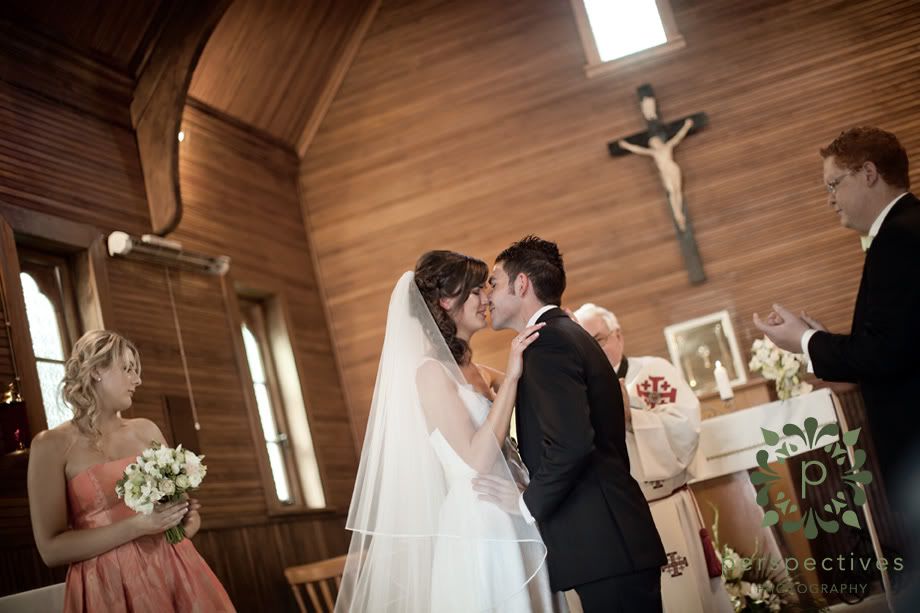 Usually, we don't tend to blog signing shots, as they're often not all that 'interesting'. But something about these two images I just love. Adding to the cool factor, is that Jason MADE the candle holder – he's fantastic with wrought iron – and actually made an awesome sign for us at our studio.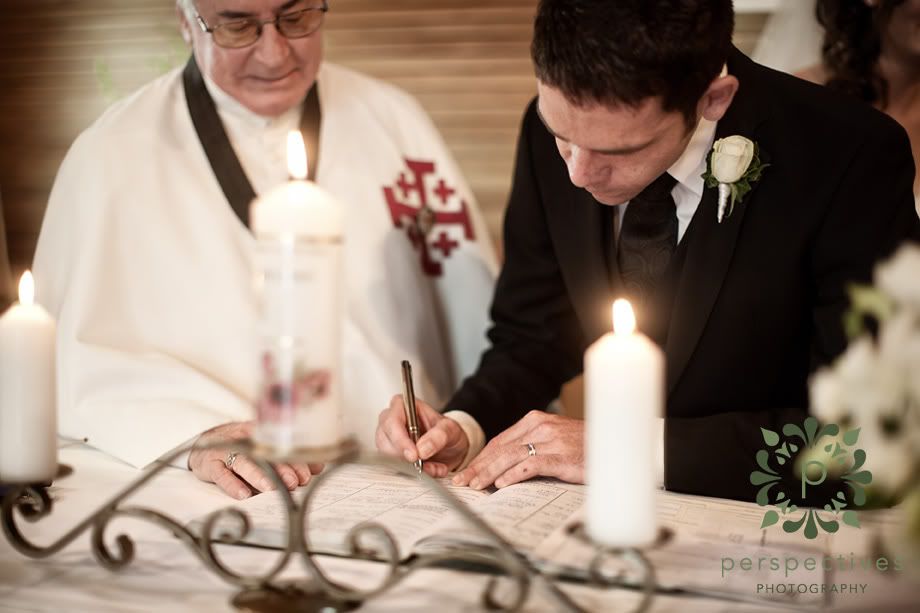 The priest giving a blessing.
After the ceremony, as Jason & Michelle walked out of the church, their friend – who had come all the way from Paraguay for the wedding – had some rice to throw.. I love the way the rice has arched up to mirror the doorway of the church.
There were hugs. There were kisses. We took photos. There were family group shots. We took more photos. But we'll save those for another day… because you know you all want to see what came next.
We drove over to Cambridge (it's quite surreal having a 45 minute drive between ceremony & the location shots… it felt like we had only just arrived for the day when we got to Sarnia Park, not like we'd already been shooting for 5 hours!
First stop – Lake Karapiro.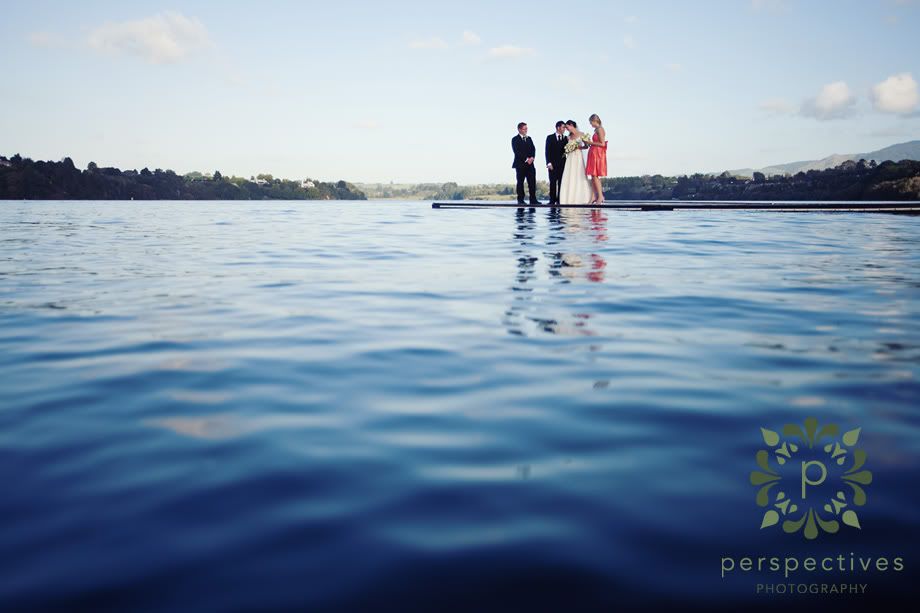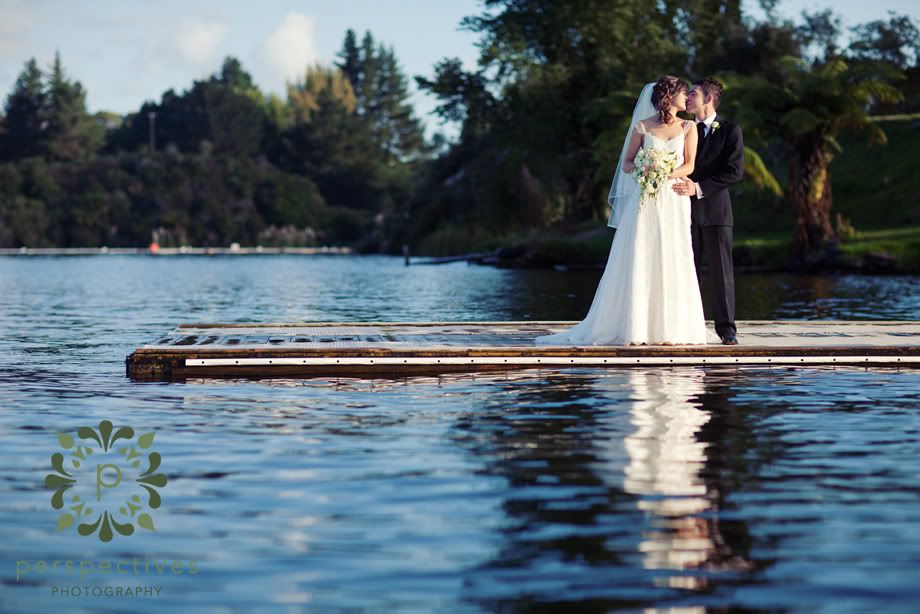 And then another cool spot we found…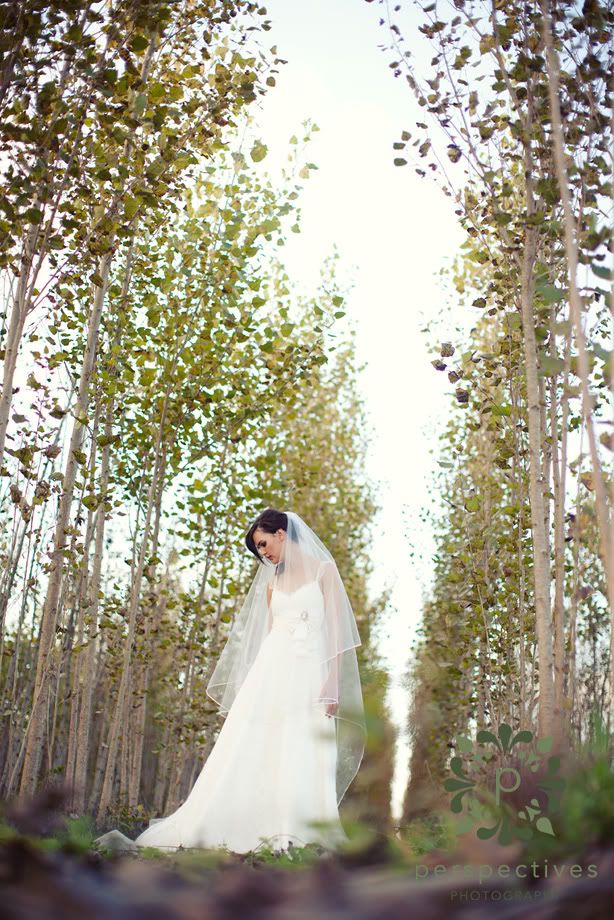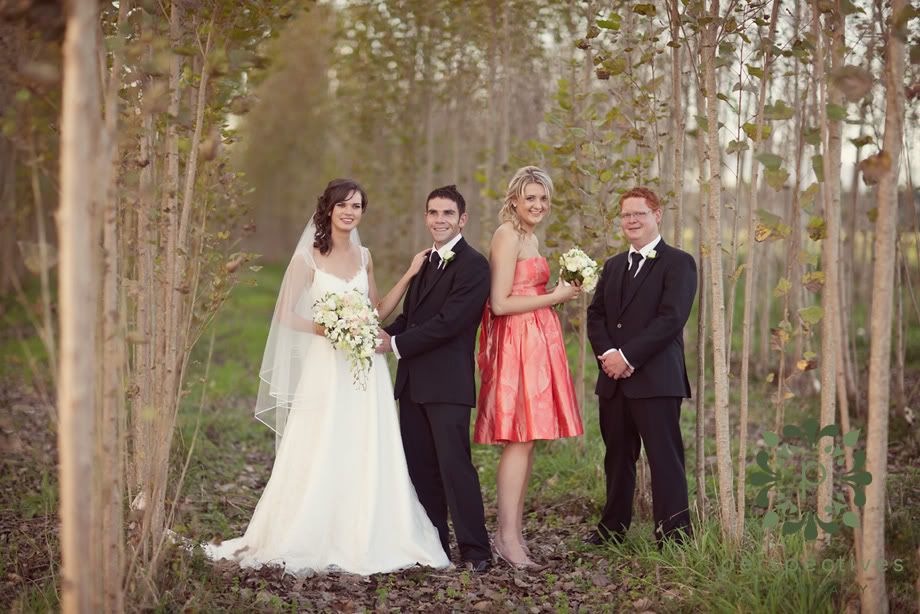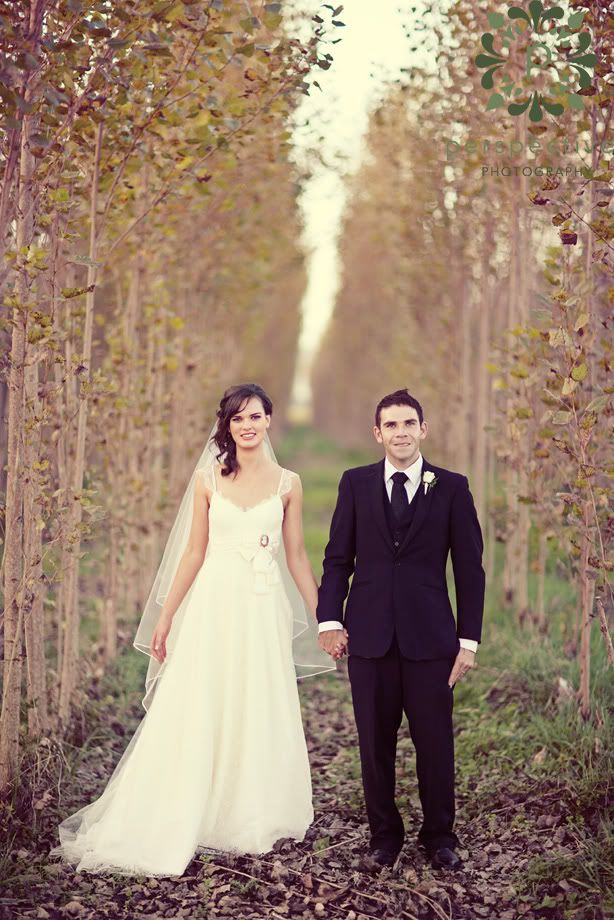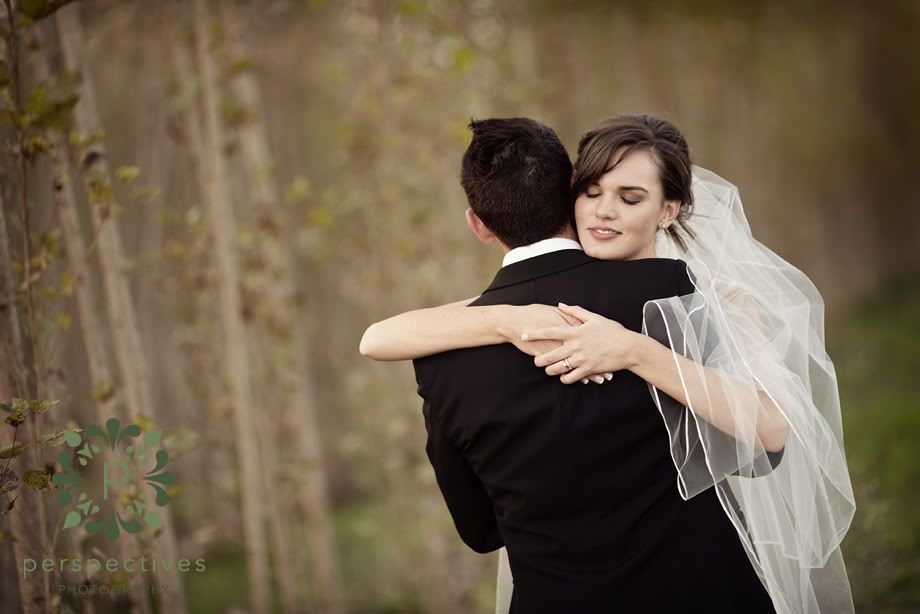 The above shots were taken in a light overcast… and then… the sun came out. Which was what we'd been waiting for.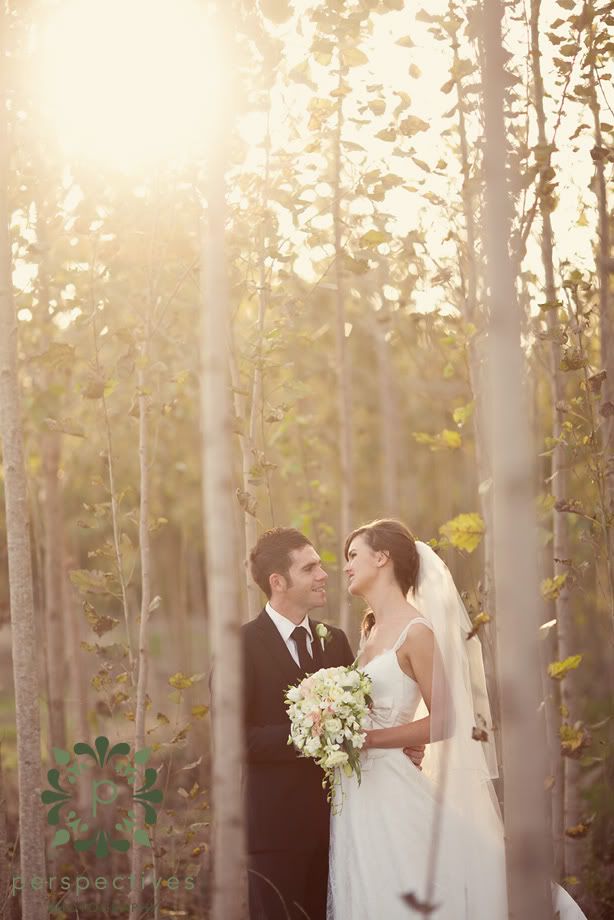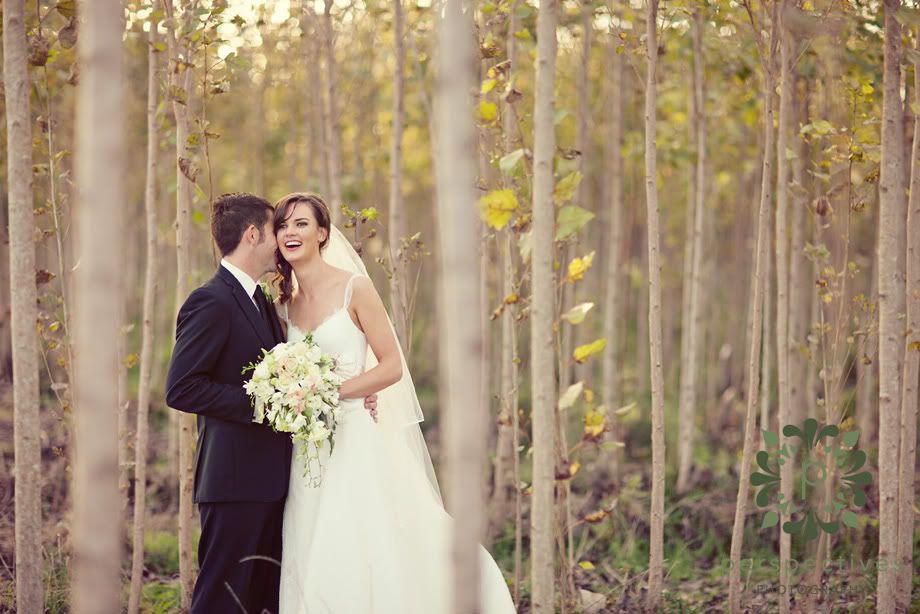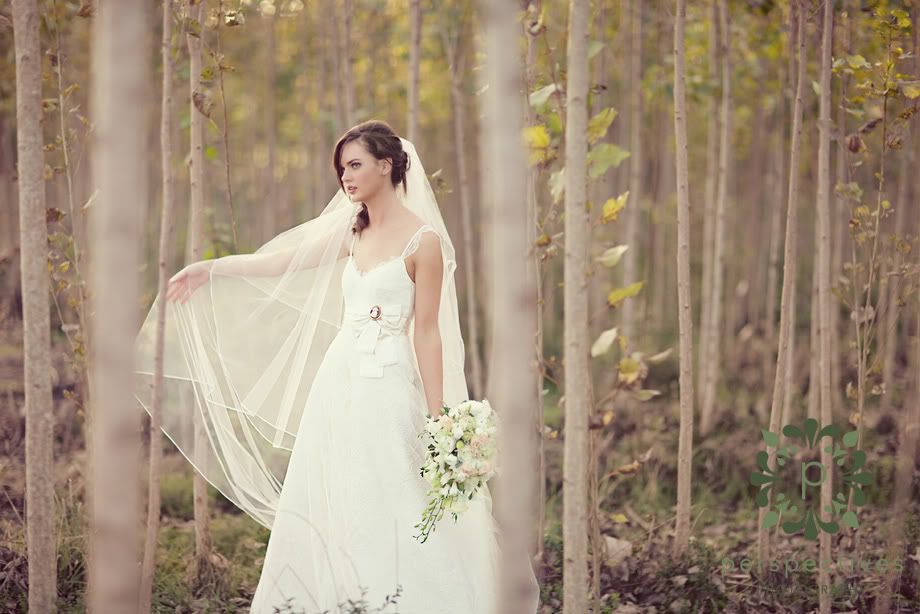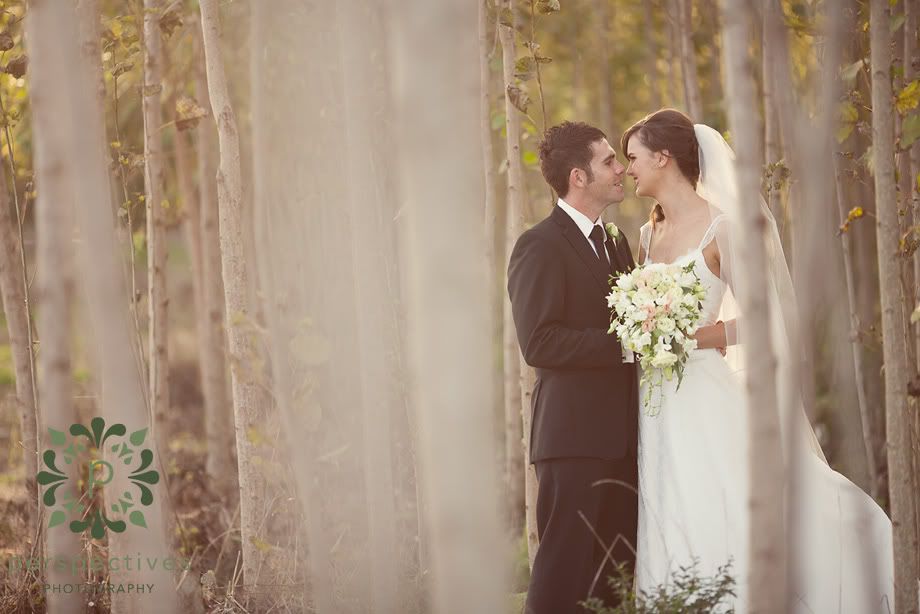 Content with some amazing shots (but wanting to stay and shoot there forever) – we headed back to Sarnia Park.
When we arrived, Amber headed over to photograph the reception setup (it's always nice to do these things before the room is filled up with all the guests) – and we learned that Jason had also made each & every one of the table centerpieces from wrought iron. So cool. Michelle's touch was seen throughout the whole room – it looked perfect. But it was definitely cool to see some 'DIY' that the groom had supplied!
We headed across to collect their bridal hamper & drinks, and the 4 of them had a much deserved time out, a nibble, and some drinks. A few quick shots too…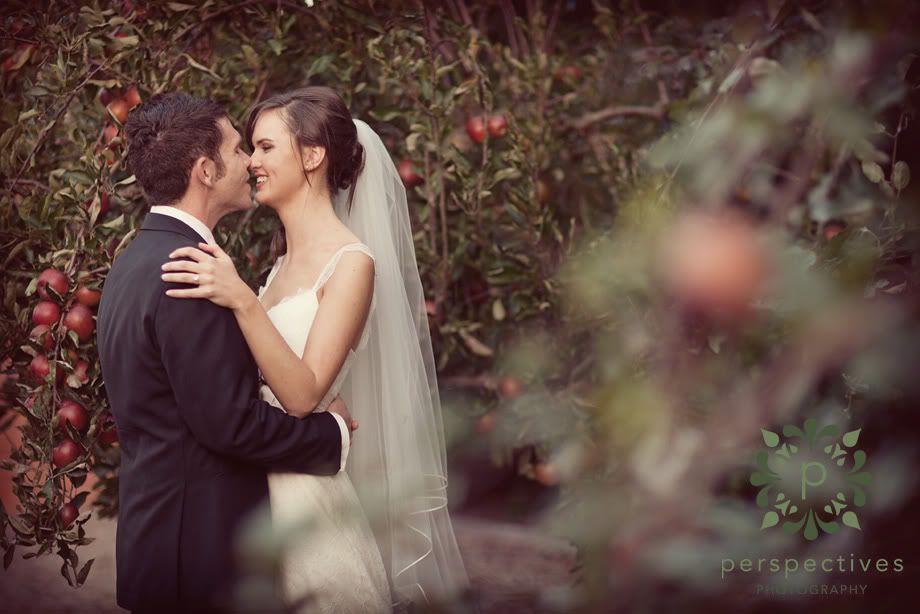 The light was fading, and in the time left, Michelle & Jason wanted to have a practice of their first dance (which they'd had some professional lessons for). It looked superb (and I later heard from Michelle that the real thing went without a hitch!).
It was a good excuse for us to get the lights out & have a play with some cool lighting.
Then, just before the reception began, we headed over for a couple of shots under the lamps – a fittingly soft & romantic way to round off the photos.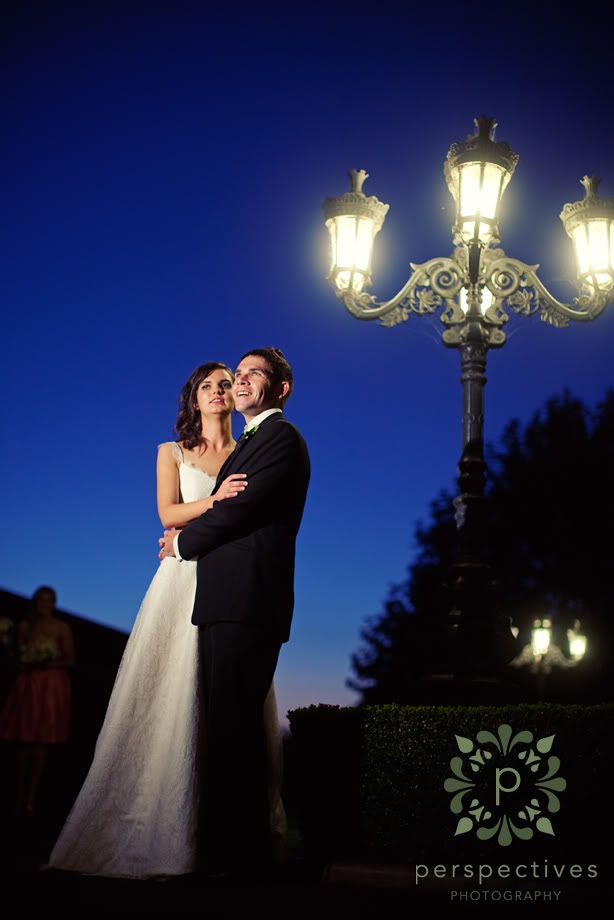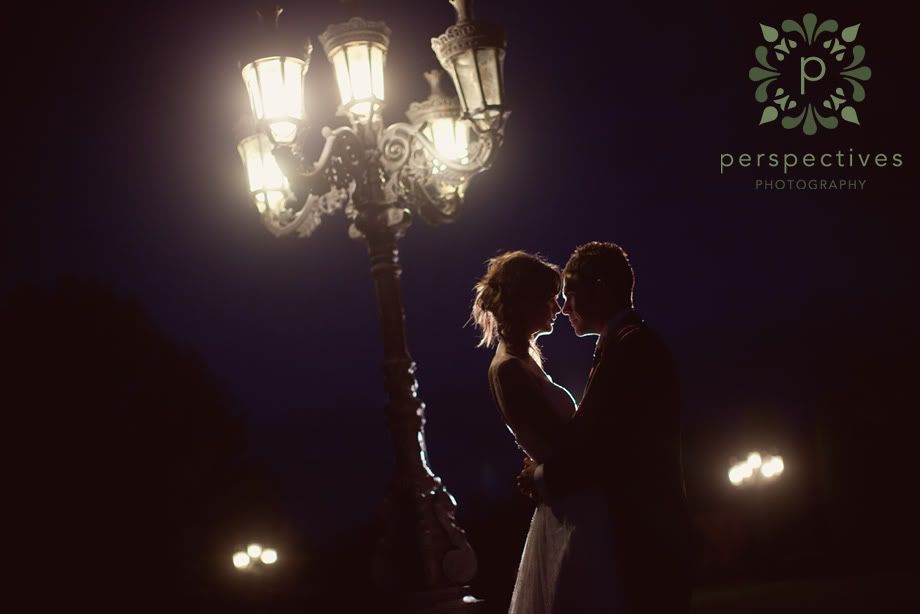 Thank you both so much for having us along to share a part in your special day – we had so much fun with you all, and are so stoked to have been entrusted with capturing these memories.
Enjoy the photos – so many more awesome ones to come!
If you've enjoyed these images – head across and 'like' our Perspectives Photography Facebook Page – where you can stay updated with all our latest creations, right in your news feed.
Until next time,
Isaac & Amber 🙂