In which Kat & Simon have a wedding… sneak peek! Pauanui wedding photos
Yesterday, we traveled up to Pauanui – where we caught up with the lovely Kat & Simon.
I'll preclude this post by mentioning that yes Holly came along too, and yes, her shots were fantastic. So much so, that she's getting her own blog post – maybe tomorrow. Or maybe later. But soon. And there'll be more of Kat & Simon's photos in that one.
Anyway – we arrived. There were clouds – which made us happy. Then they went away and left bright blue skies – which at least reassured us that Murphy's law is still well and truly in control of the universe. Then the clouds returned for their ceremony & photo shoot on the beach – hurrah!!
The boys were getting ready at Simon's parents – right by the airfield. This was because Simon's dad has a plane – hence photos with the plane. I love that you can fly places & taxi right to your front door – awesome!
I also loved the fact that the guys were dressed in shirts, shorts & jandals – sensible decision when you are getting married on the beach, in summer. Much more comfortable than 3 piece suits, for sure! The guys weren't afraid to play up to the camera a bit either..
Then it was off to the girls, where Kat & bridesmaids were getting ready in a lovely apartment building – filled with all the good kinds of light & quirky bits that photographers like. The girls had jandals too, again – good decision, as anyone who has walked on the beach in heels before will know.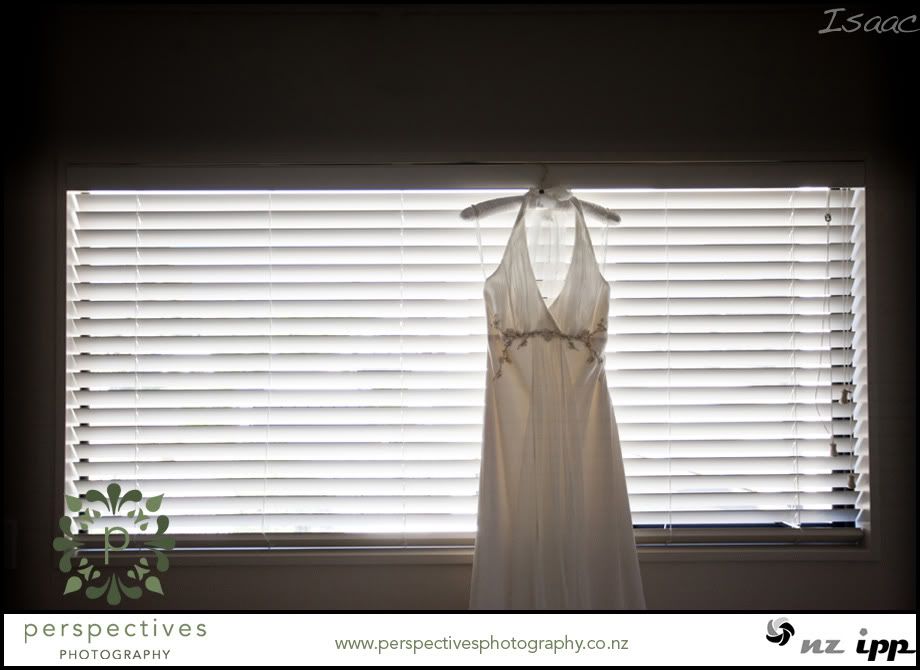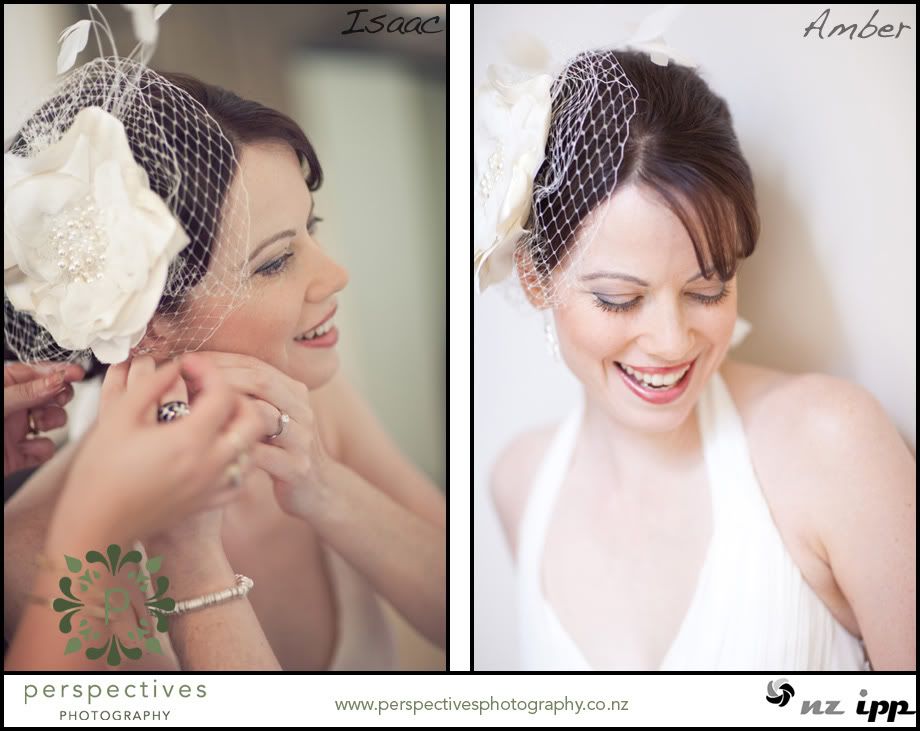 Kat's fascinator (and the bridesmaid's hairpieces too) was fantastic – so classic & elegant!
The girls weren't afraid of playing up a little for the camera either..
Just before we headed out the door to the ceremony, we had the chance for a few shots in the cool staircase of the apartments – I find it interesting that although we were shooting totally different angles (Amber was down the bottom, I was up top) and different zooms, we both went for framing with negative space at the top!
We caught up with celebrant Marilyn Holmes – who does beautiful ceremonies, and Kat & Simon's was gorgeous. Very personal, and real.
I don't usually include shots of "signing the register" in my blog posts, but something about this one grabs me & it just had to go in…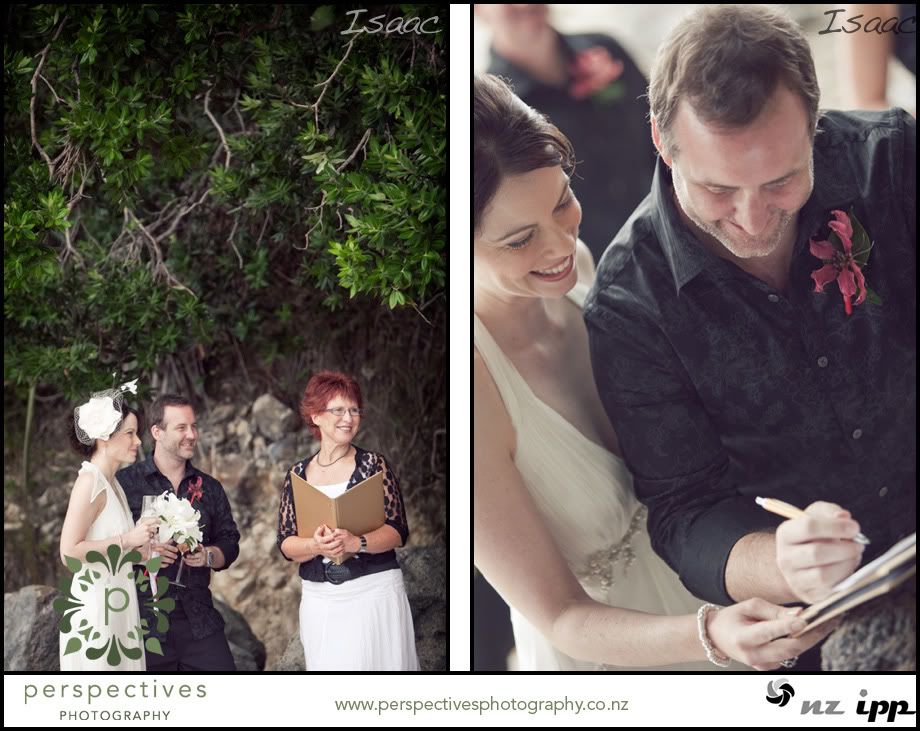 We headed down for some shots with the bridal party, beginning with the rocks. Punchy black & whites are great for these kind of conditions – it really brings the contrast in the skies out.
The thing which really struck me about Kat & Simon was that we didn't really need to direct anything – they were just naturally looking at each other, stealing kisses, and all we really needed to do was keep shooting!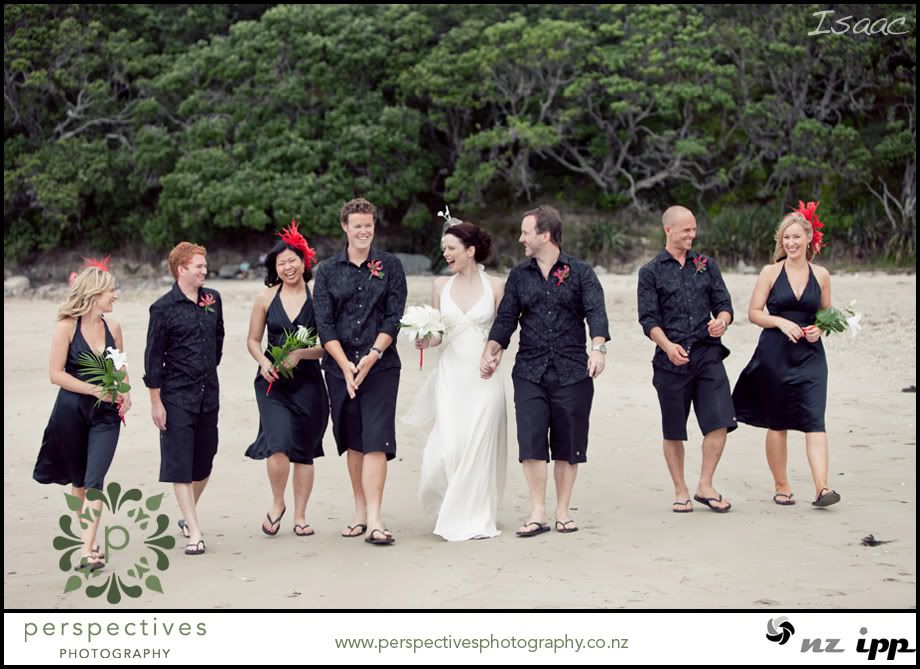 We then wandered along to the dunes, where the fluffy grass things made for a nice soft foreground (I'm sure Amber will berate me for not knowing the actual name of said fluffy things) – and then finished up down by the Pohutakawa trees & bridge.
Enjoy the photos – and keep an eye out for the "Holly special" blog post soon, with her shots from Kat & Simon's day 🙂