Perspectives Photo + Cinema – New Studio Launch!
This has been some time coming… but we're very excited to announce the launch of our brand new studio.
We decided that having a natural light studio was a goal for 2013. Whether it's a calm & quiet space for curled up, sleeping babes – or a space that kids can race around and we're not worried about them hitting the light stands… a big, natural light space really appealed. So the hunt began. We came across this space in Kumeu with so much potential (real estate agents soon stopped even suggesting places without massive windows) – it had perfect light… but needed a fair amount of work.
As it was just before Christmas, the chances of finding tradesmen with open schedules was basically… zero.
So the next best thing – we did it ourselves. From building a wall, to battening over the concrete block work, putting up the gib, painting, laying the floor – the only thing we didn't trust ourselves doing was the plastering!
In this video, we've jammed weeks and weeks of work into 2 minutes – check out the start to finish progression!
One of the coolest things was having so many people in at various stages of the project, getting their hands dirty. So massive thanks to everyone who came & helped out 🙂
Here's Amber and I filling holes in one of the few walls we kept…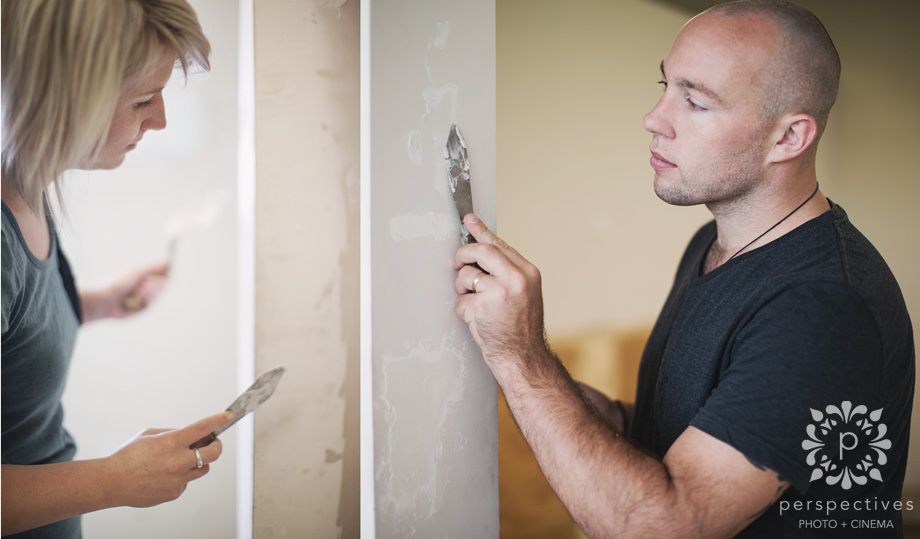 I couldn't have done it without my little brother Josh, who donated a week of his time to come and work long, hard days. Thanks bro!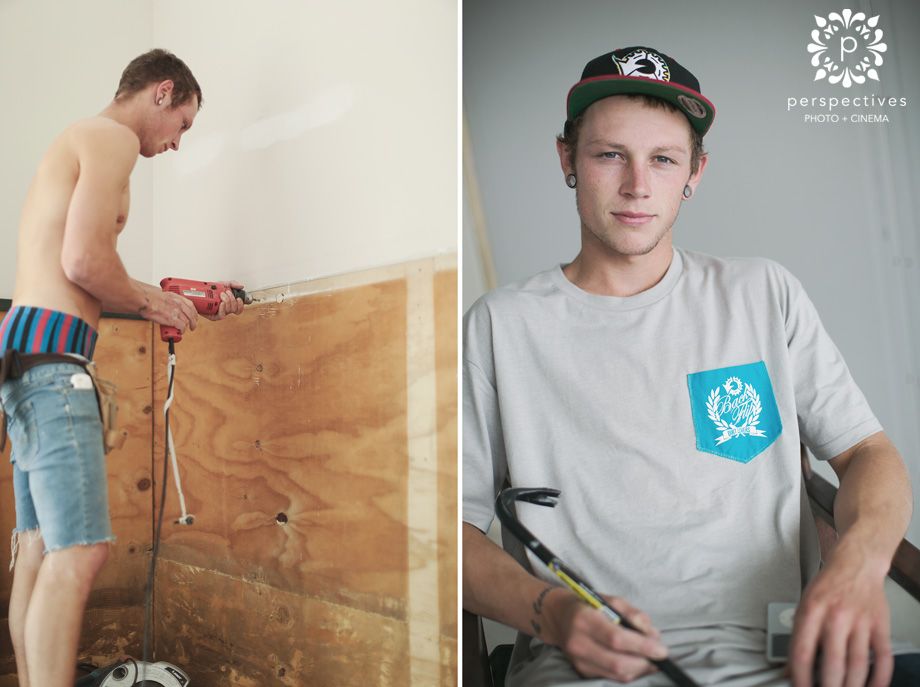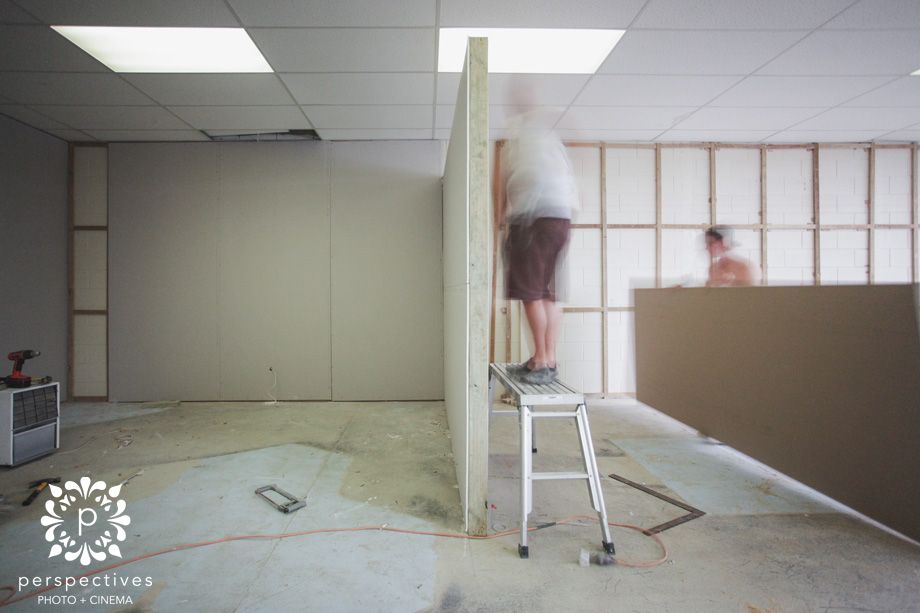 Amber was always being really helpful, too. Like finding new uses for screw strips. According to her, I was a stegosaurus. I thought more along punk rocker lines – with mohawk to boot. Either way – it's now on the internet. Awesome.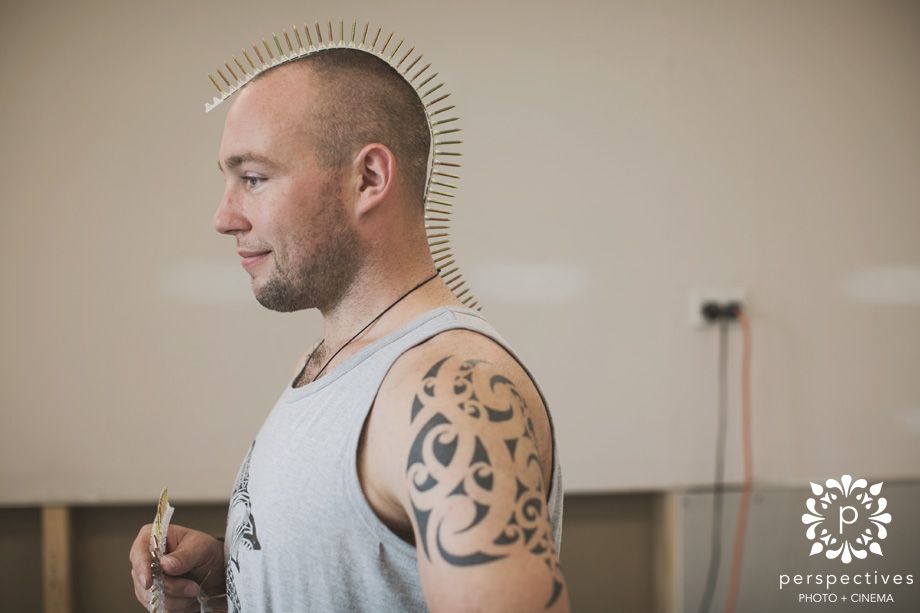 It's OK though – she got to help pick the colours.
Plus – while Josh & I did the building, Amber was at home all day keeping on top of our editing workload. We switched over once it came time for painting (which I can't STAND!)
Laying the flooring was a whole new experience. 'Easy click together'…. is a lie. The finished result looks great, though.

This is one of the only times we've done a project like this, and actually remembered to take 'before' photos. Which is great – because we can now lay them up next to the 'after' shots.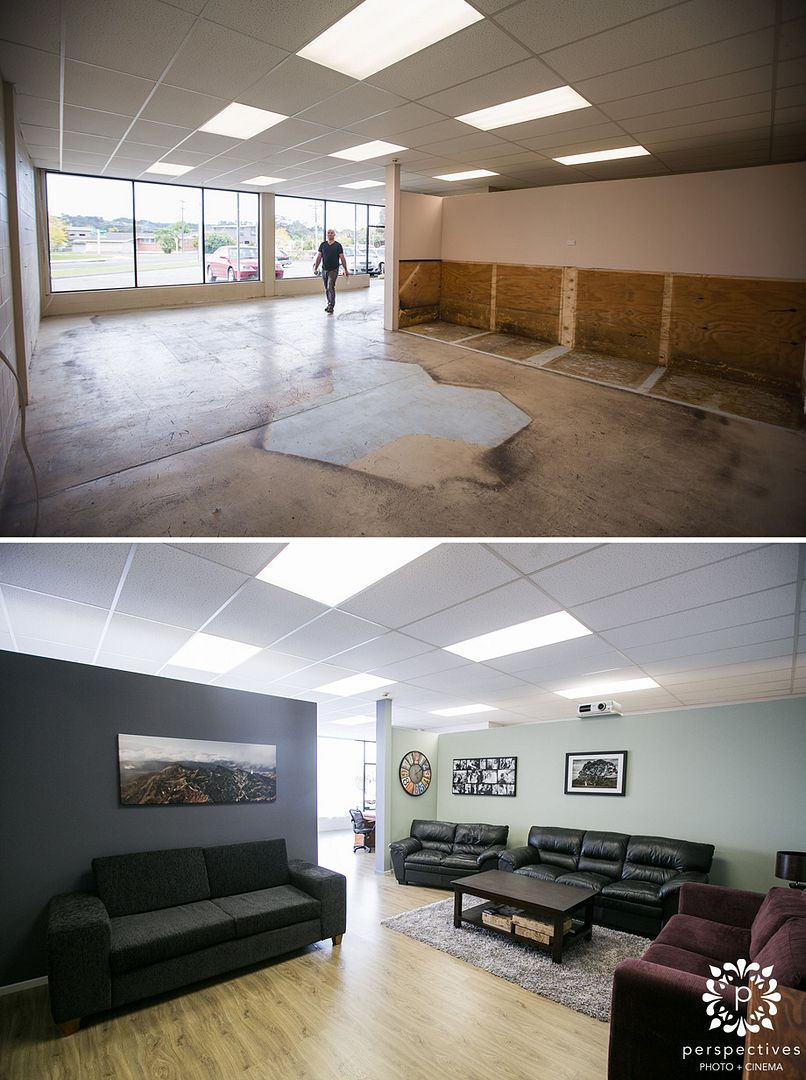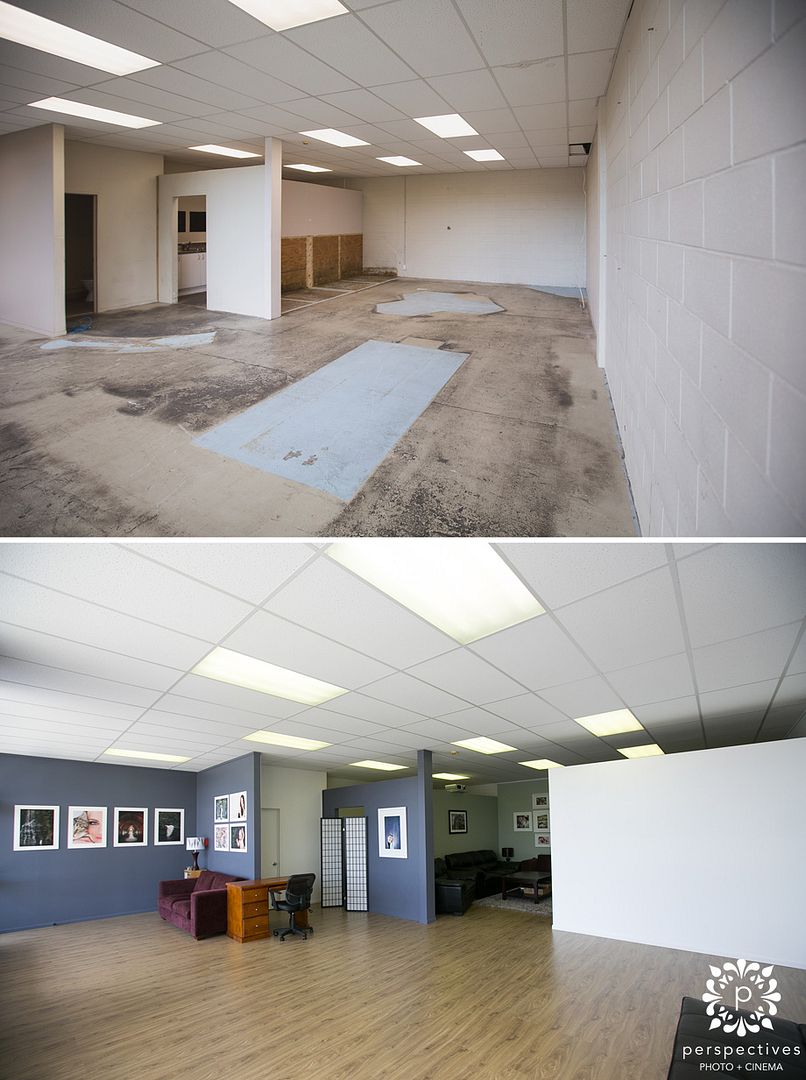 Love the massive projector wall space, too – who's coming over for a movie?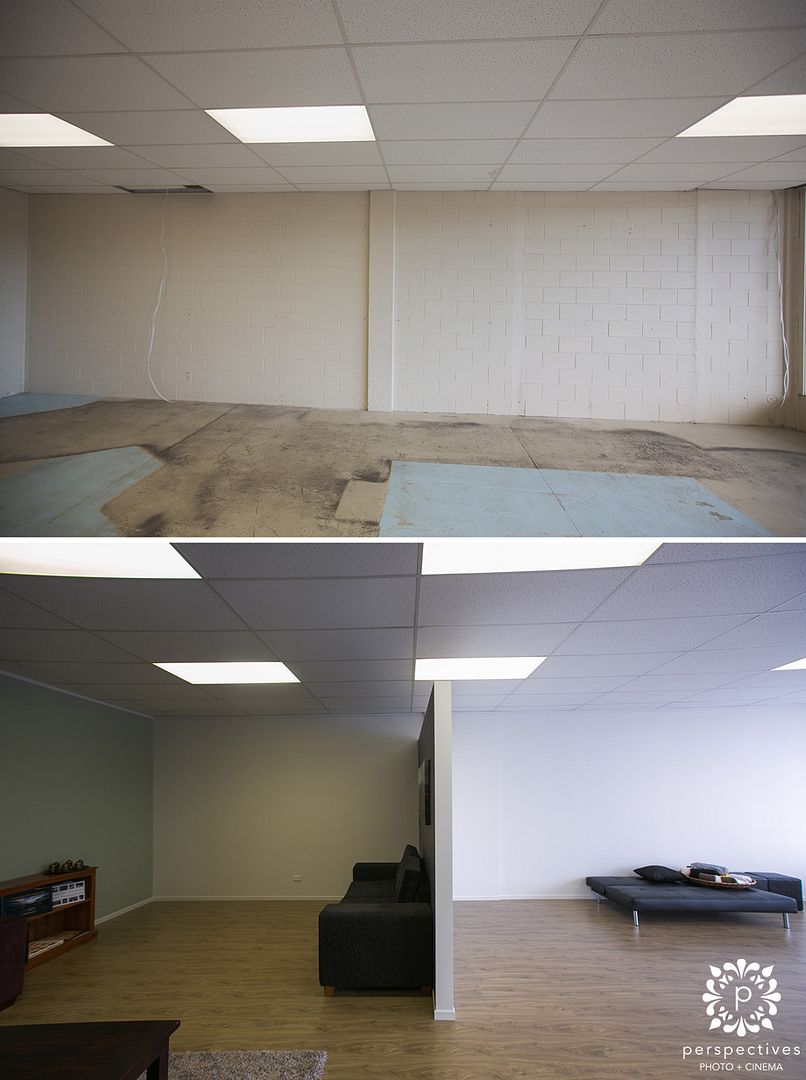 Lots of natural light space for shooting!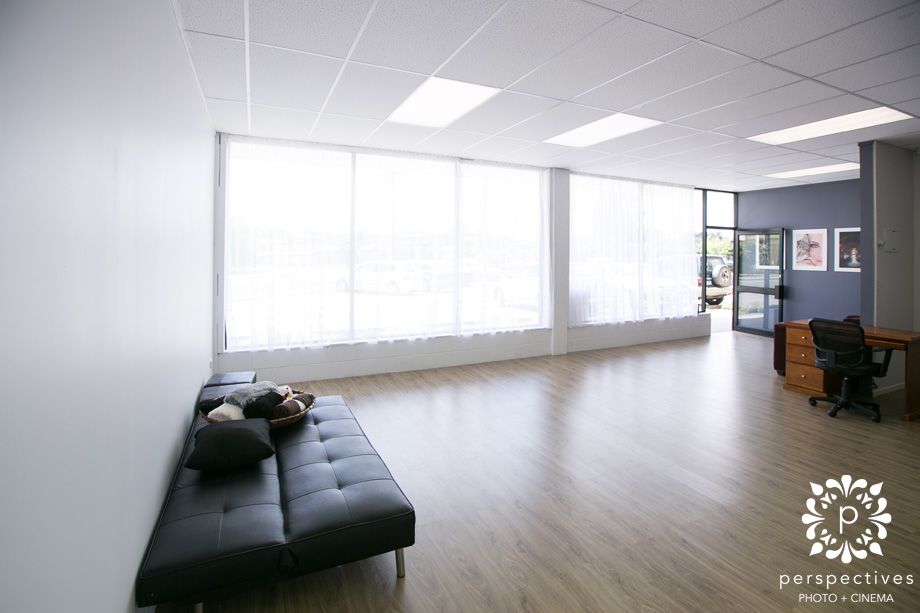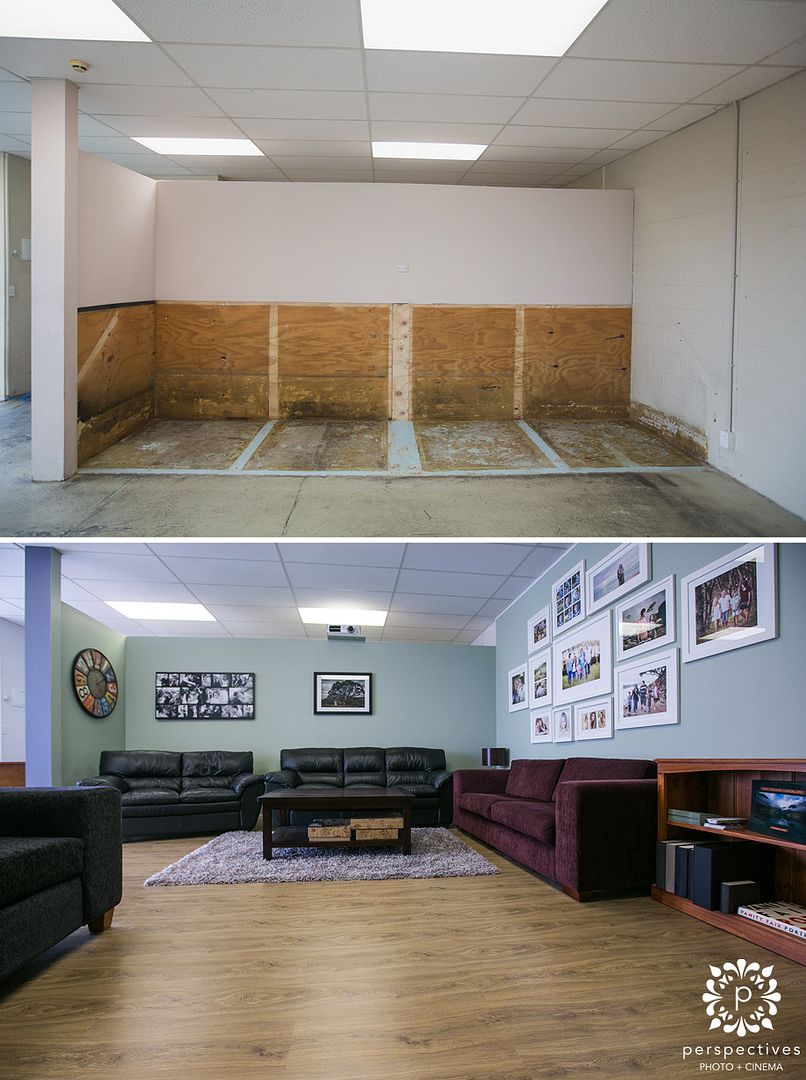 One of the best parts (or the worst parts, depending on whether you're our accountant or not) is that we have a fantastic new cafe (the Food Vault) on the other side of our carpark, and a lovely new wine / tapas / bar called Ruby's (formerly 'Verve') next door.
So when you come in for your session, or wedding meeting, we can wander over once we're done & have a coffee or wine. Perfect!
The only thing it needs now is … you. We'd love to see you here & show you our new space in person! We'll be having an open day very soon – keep an eye on our Facebook page for details.
What do you think? Like it?? Tell us in the comments below 🙂
Cheers – the team @ Perspectives.