Little Polynesian Rarotonga Wedding Photos – Andrew & Nathalie's sneak peek!
Hi guys,
A few weeks ago, we headed back to Raro for Andrew & Nathalie's wedding. Originally scheduled to take place at Royal Takitumu, they needed to change venues because they had so many people RSVP that they would be making the trip over!! I guess the idea of a respite from the NZ cold was appealing to everyone.
So it was Little Polynesian Resort that became their venue – and we were stoked.
We were lucky enough to fly over to photograph the property a year or so ago – (if you're interested, those pictures are here) – and it's one of our very favourite places in Raro. The place is stunning, and the staff are amazing.
The night before the wedding, Andrew & Nathalie had organized a get together for their guests at Coco Putt – for a BBQ and mini golf. We stay about 2 minutes walk down the road from Coco Putt – so we decided to head along, and catch a few of the goings-on.
All the guests were told to dress in 'island theme' – which looks fantastic in the photos!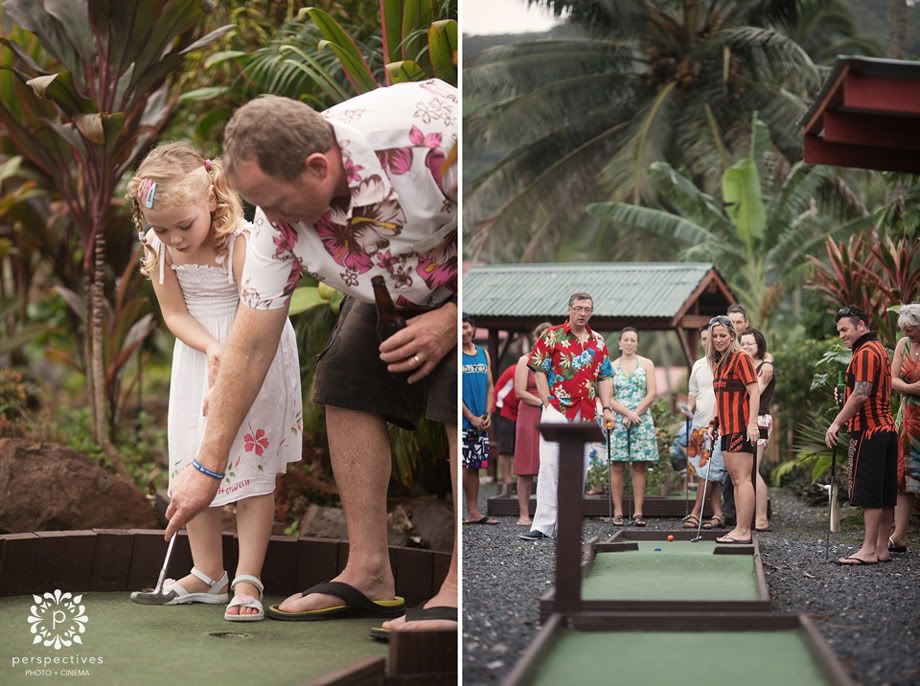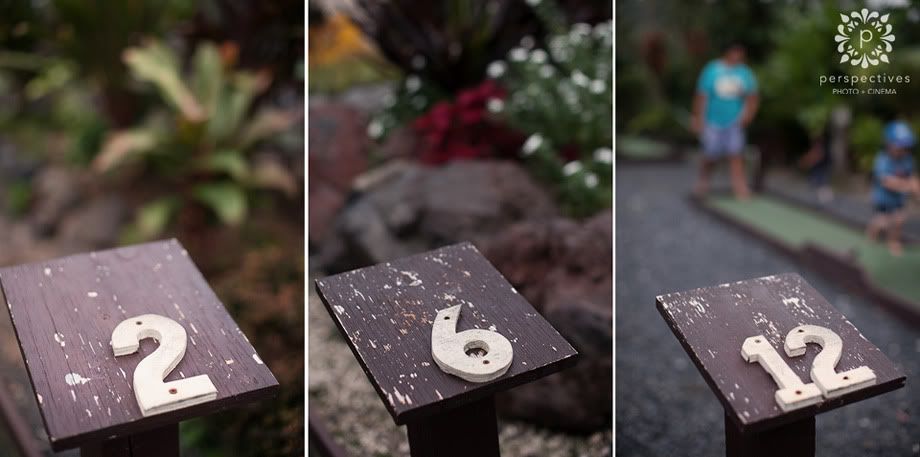 It had been unseasonably cold the last week or so, with many of the locals rugged up in long pants and jumpers. The morning of the wedding, though, was perfect. Nice and warm, sunny, and a light breeze – the kind of weather that everyone had hoped for!
We headed around to Little Poly to catch Nathalie getting ready.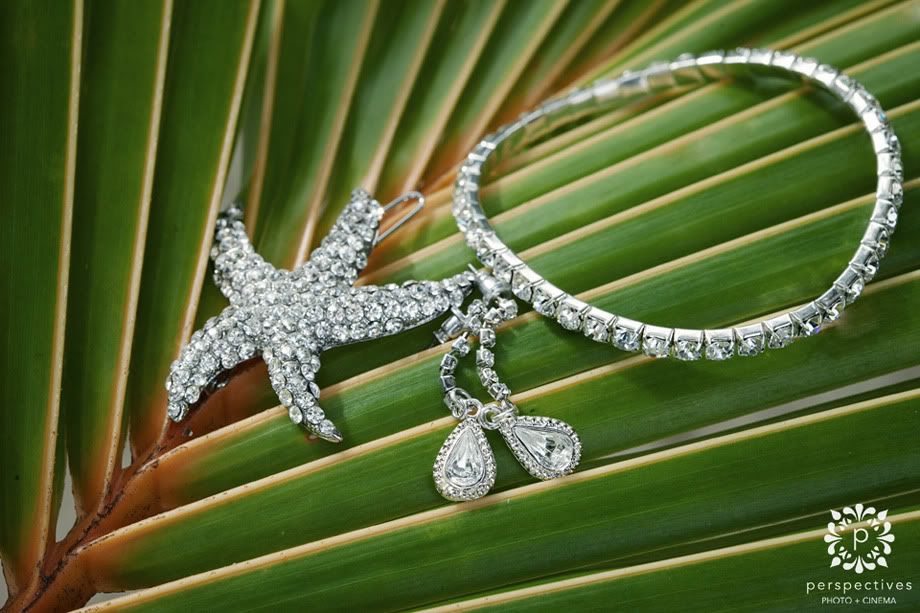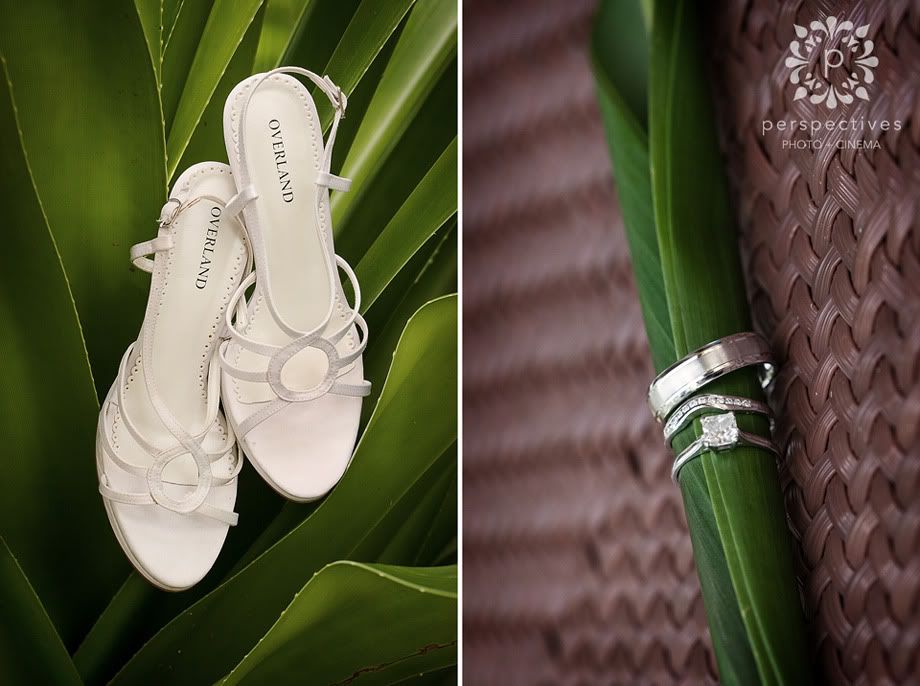 Nathalie is an avid photographer, and photos were a really important part of their day. We had plenty of guests saying to us "ooohhh – you're taking Nathalie's photos – pressure!' … but we love it! We're always stoked to shoot weddings for fellow photographers – it's a big honour to be the ones chosen! There were plenty of cameras around to document the day, too 🙂

Meanwhile – Andrew had been threatening to just get dressed on the side of the road on the way to Little Poly. I don't think it quite came down to that – but we still managed to swipe him aside for a few nice shots prior to the ceremony.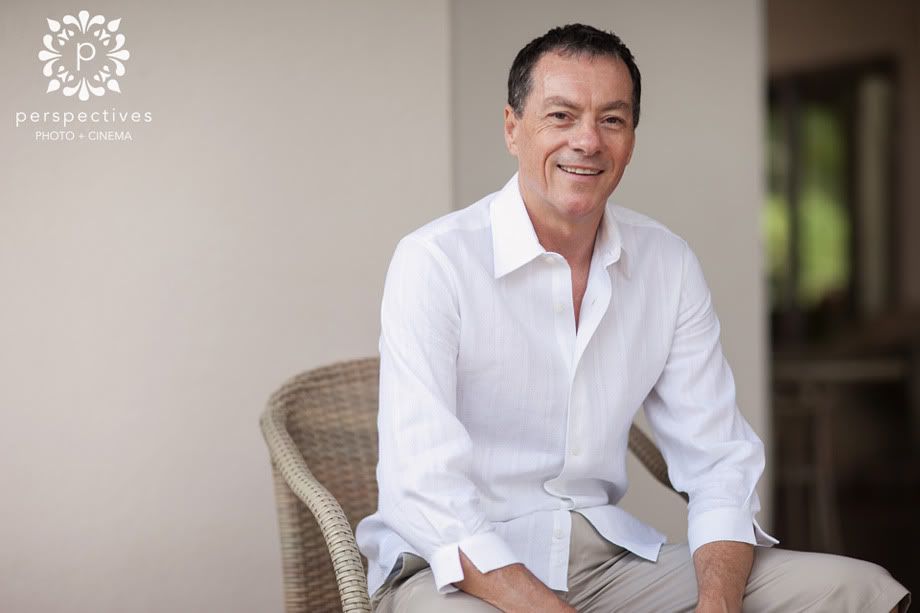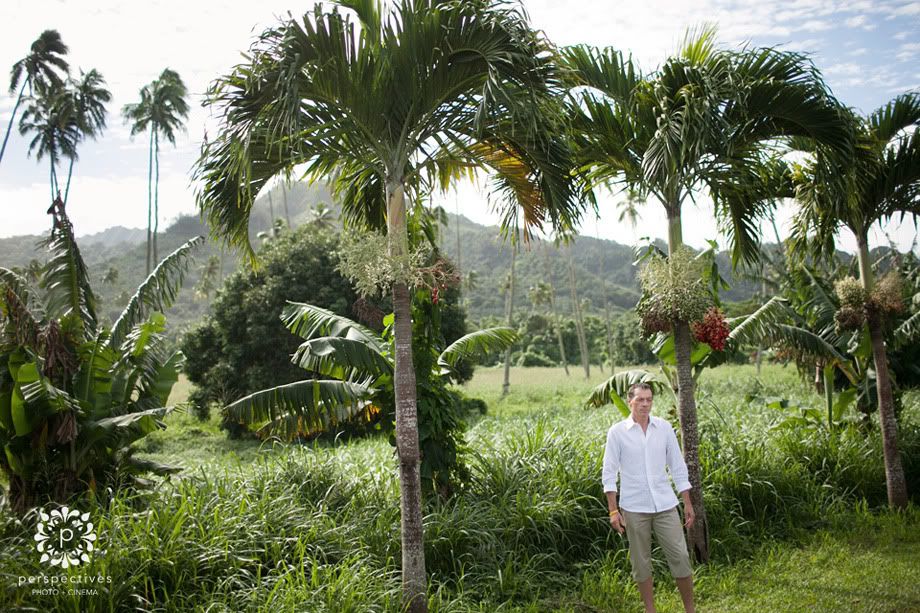 Back in the room (I love it when we don't need to travel 45 minutes across Auckland between the boys & girl's getting ready. Here it's a maximum of 20 minutes… and this day, it was 10 seconds walk!) Nathalie was ready to get into her dress. She had managed to keep it secret from Andrew (I think multiple layers of dress bags was the key!) – and it was perfect.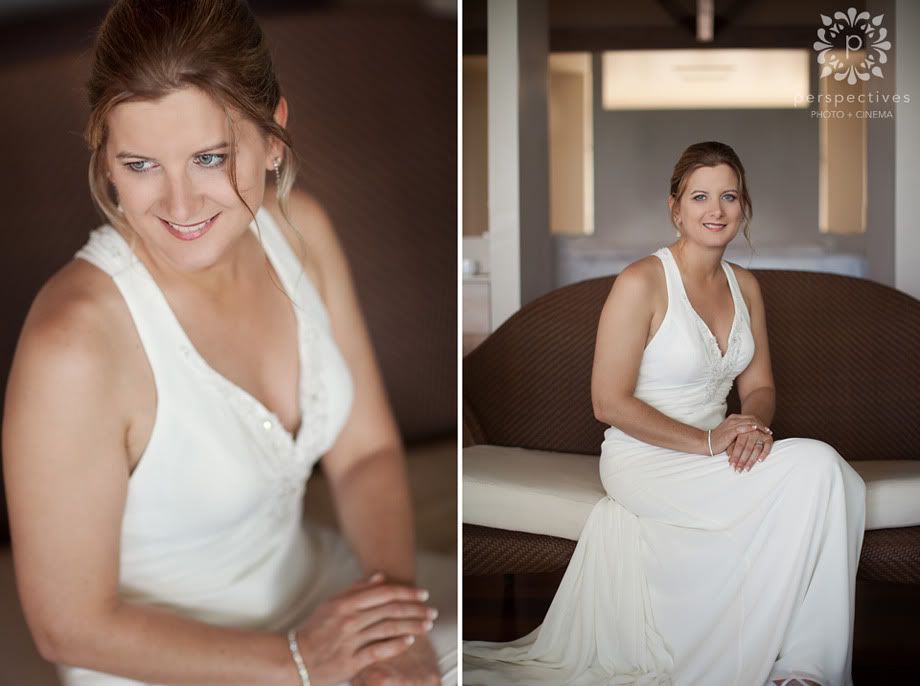 We had time for a few quick shots – and then it was onto the beach, where the guests were ready & waiting for the ceremony to begin.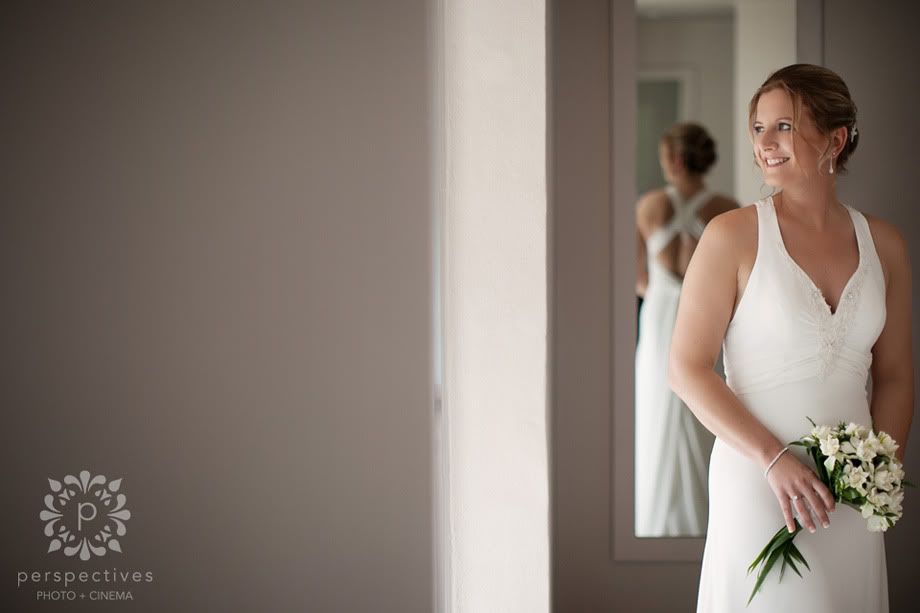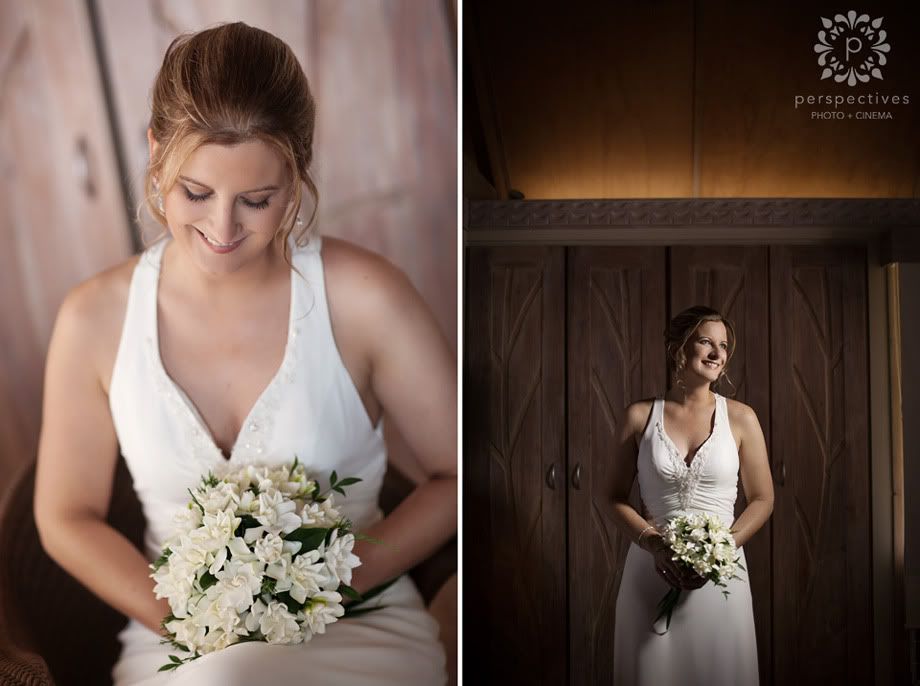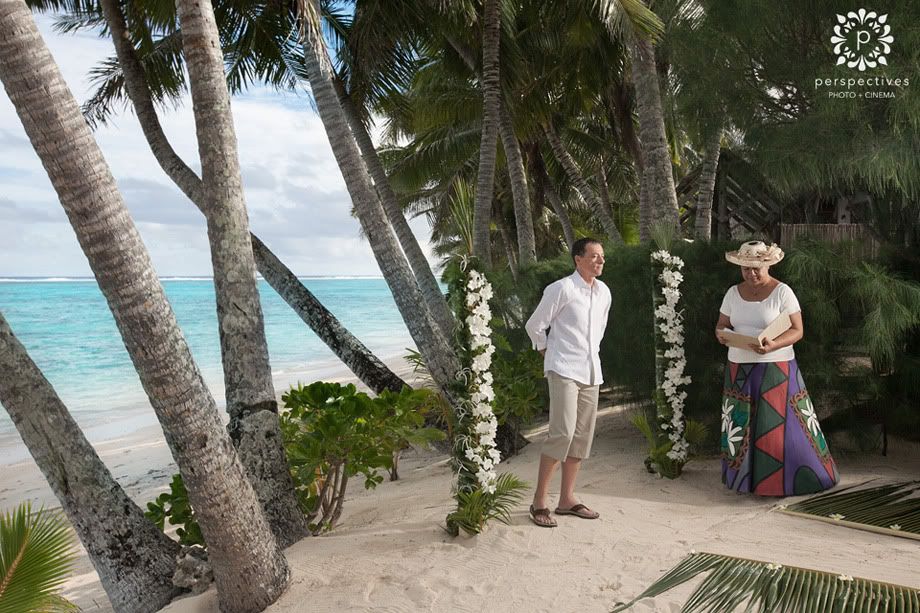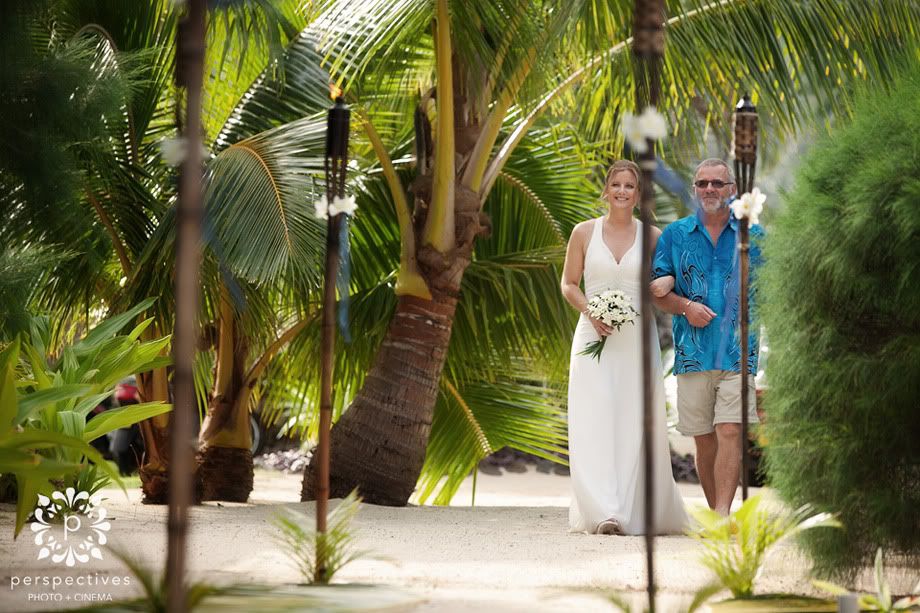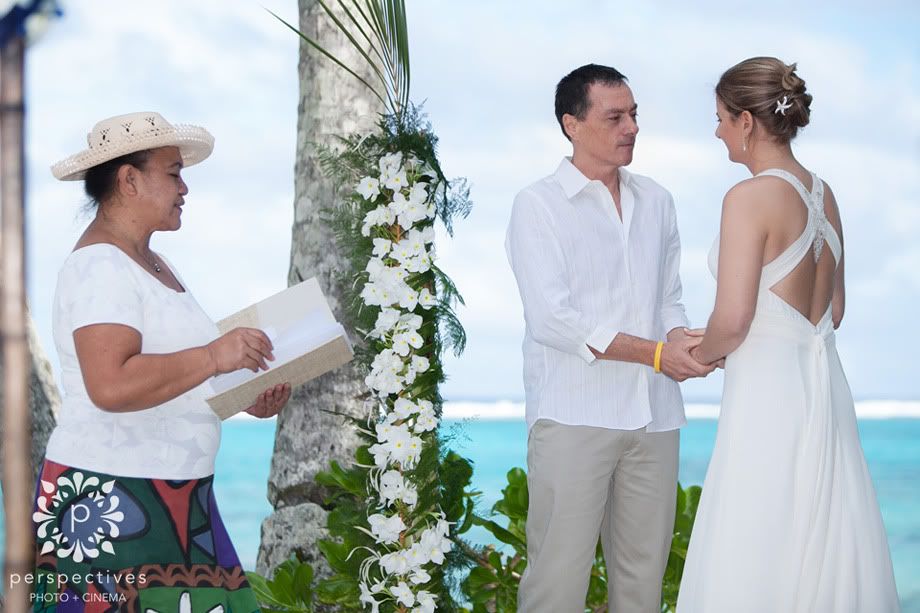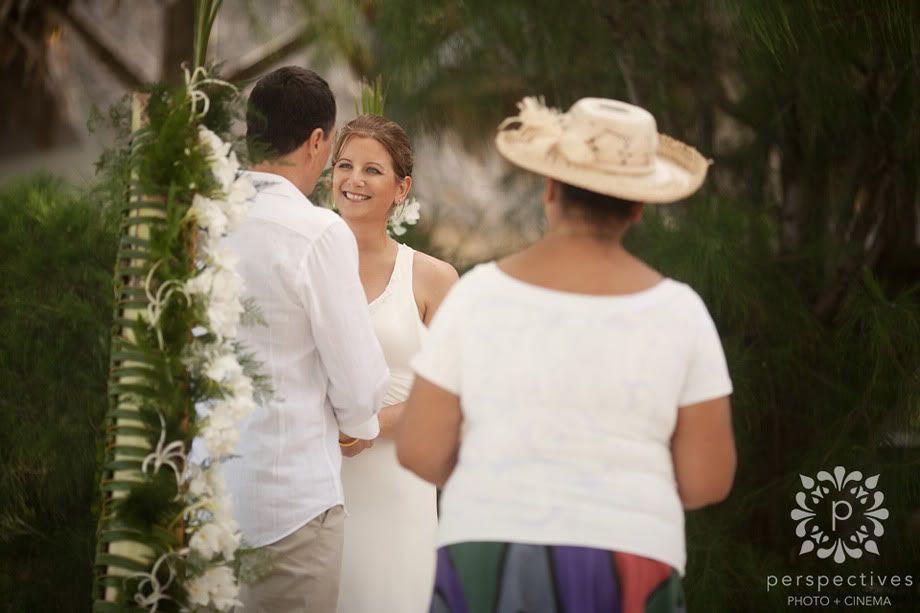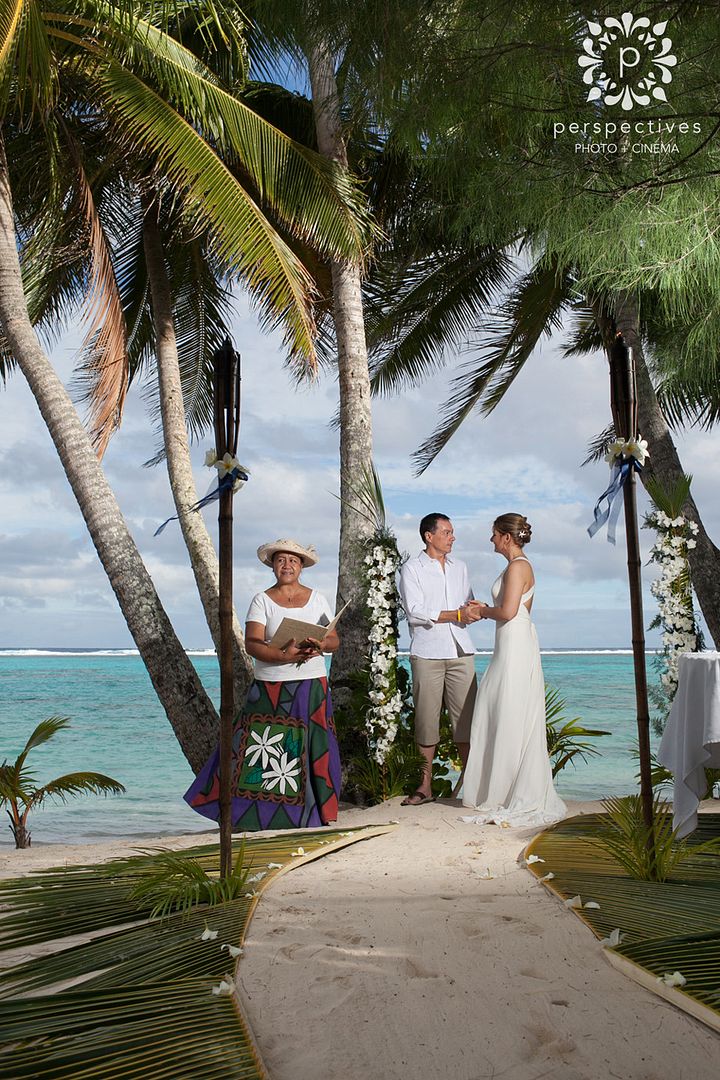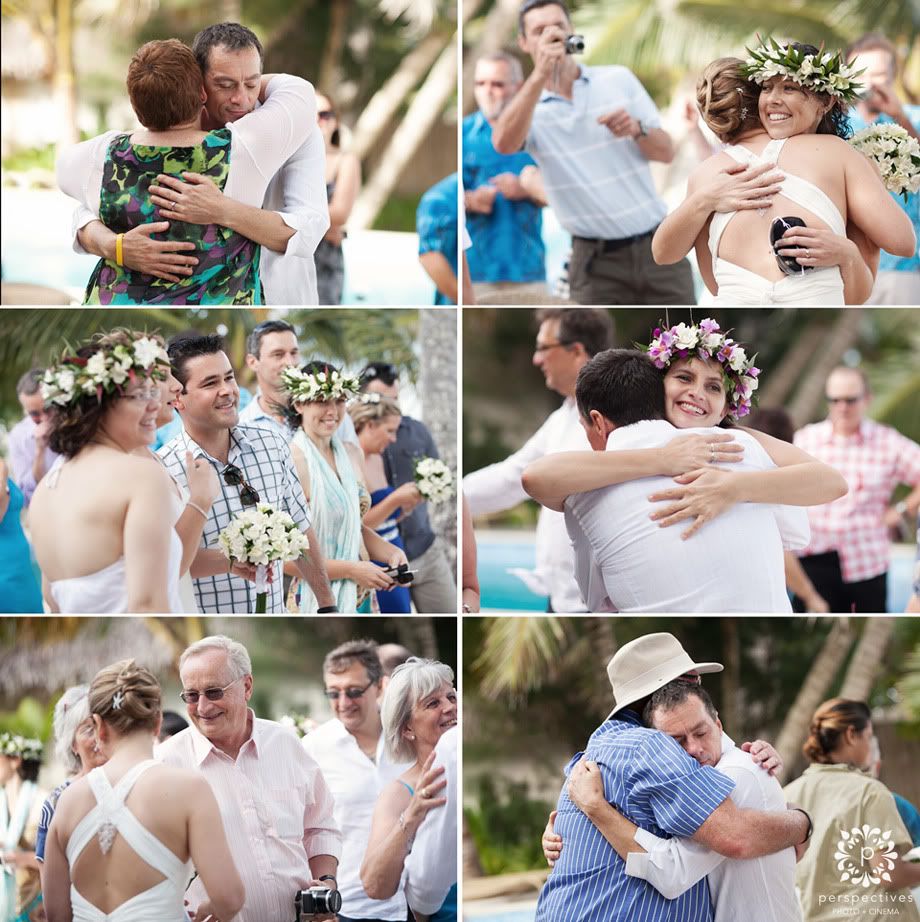 After the ceremony, we spent a bit of time getting some cool photos around the beach at Little Poly – beginning with the awesome infinity pool. Kudos to Andrew & Nathalie for balancing themselves right up on the edge, too!
It was a super high tide that afternoon, giving us only a meter or two between the lagoon and the treeline. There was still enough beach left to go for a wander, though – so we spent 10 minutes getting sand between our toes. (and in our cameras, lights, tripods, gear bags, clothing, and so on!)
We moved inland for a few shots along this road, lined with coconut trees. I love in the left hand shot how it shows off Nathalie's dress.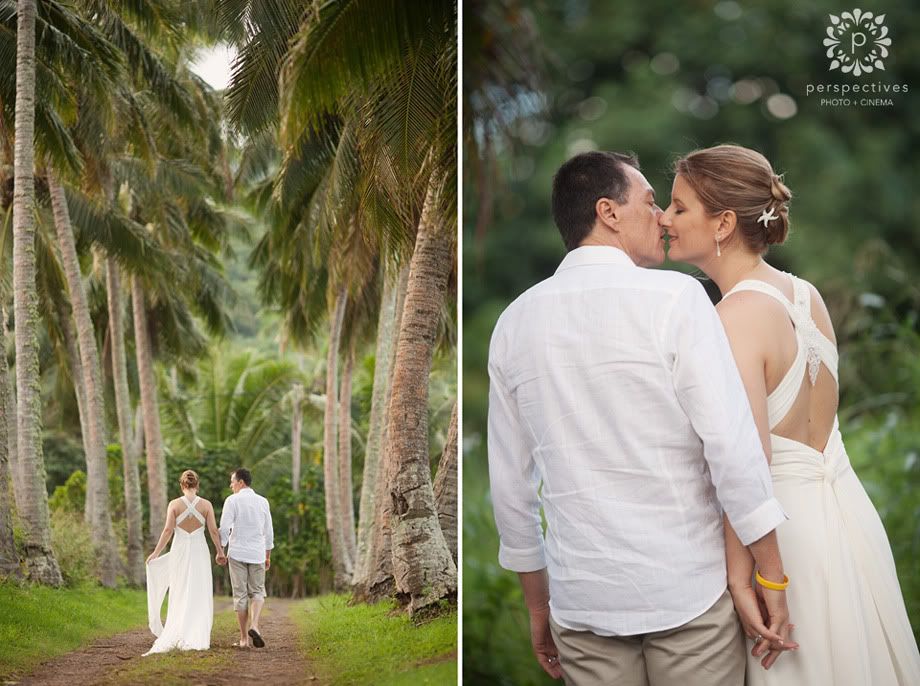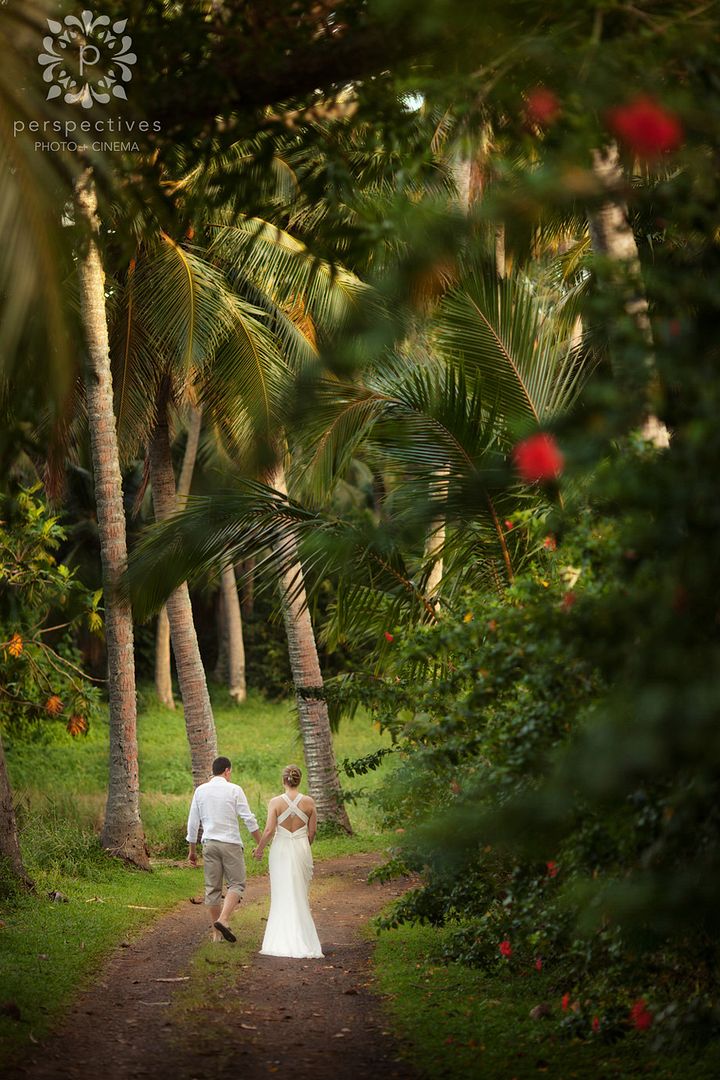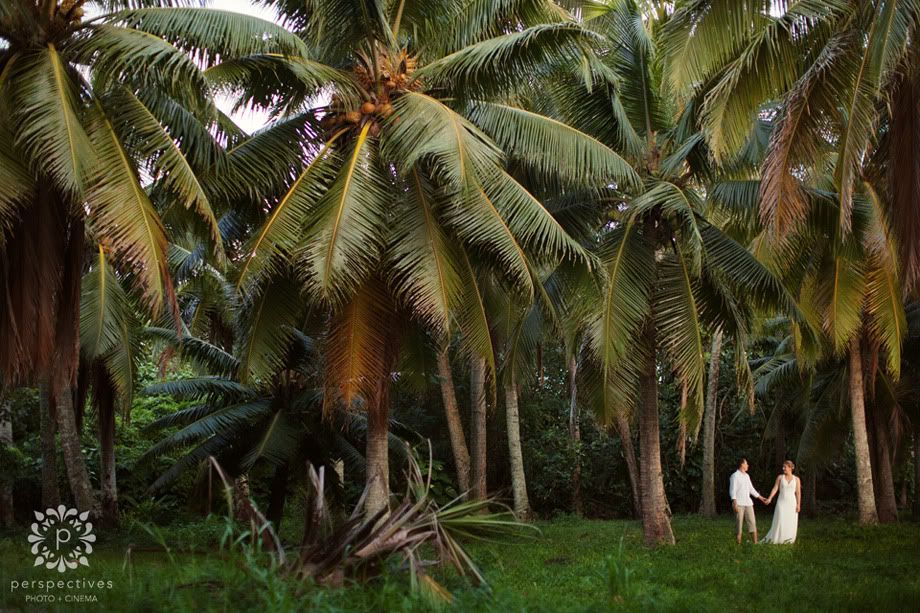 Back at Little Polynesian, the guests were enjoying a tapas meal, and plenty of laughs.

While we were photographing everyone having a great time, we also kept wandering down to the beach, keeping an eye on what the sky was doing. It's always really hard to judge what is going to be the best colour with sunset. Sometimes, it's 15 minutes before sunset, other days 10 minutes afterwards. Once it hits the peak of colour, there is only a few minutes window, before it begins to fade again. We lucked into it perfectly, though – and only had to sneak Nathalie & Andrew away for 5 minutes to catch the colours at their best.
One darkness had fallen, we were all treated to a fantastic Cook Islands dance performance.

The dancers also got the guests up with them – it made for some awesome shots as everyone tested out their island dancing skills.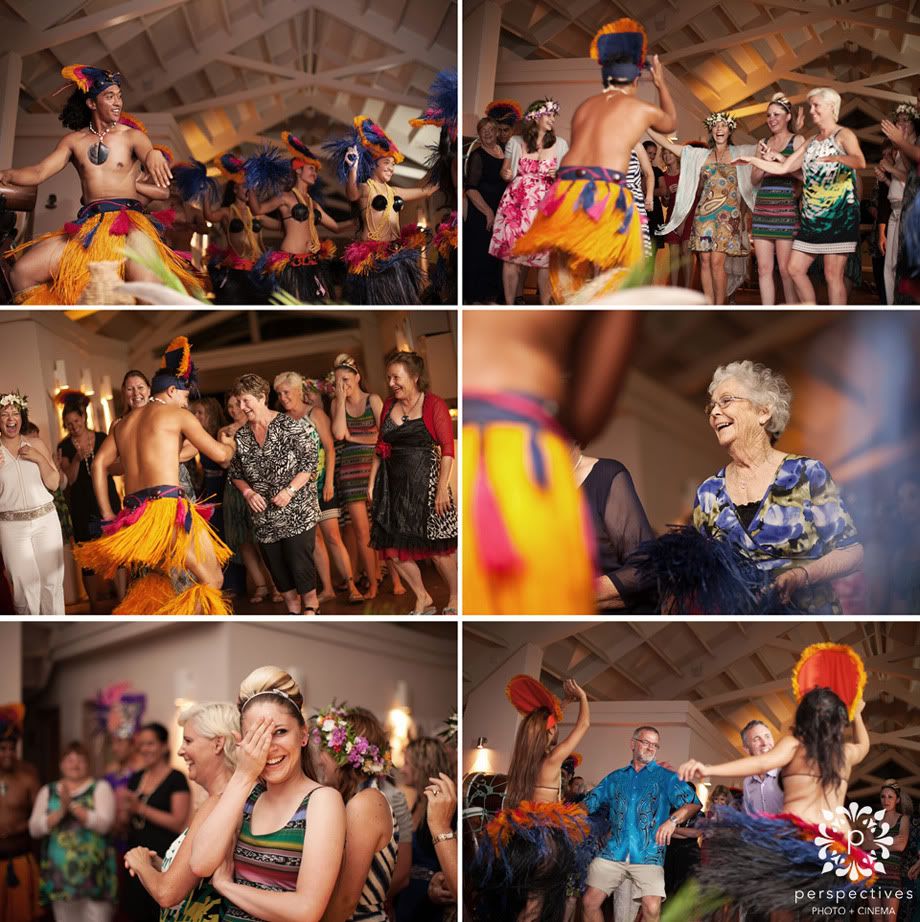 A few days before the wedding, Andrew & Nathalie told us they had brought a box of bubble wands over from NZ – but were unsure how they could incorporate them into the day. I mentioned that I had an idea for a photo that I was keen to try out… but prefaced it by saying 'it might not even work at all, I have no idea'.
What we needed, once it was dark outside, was a crew of willing bubble blowers. These guys were good enough to leave their dinner & come out and play in the dark – blowing masses of bubbles on cue!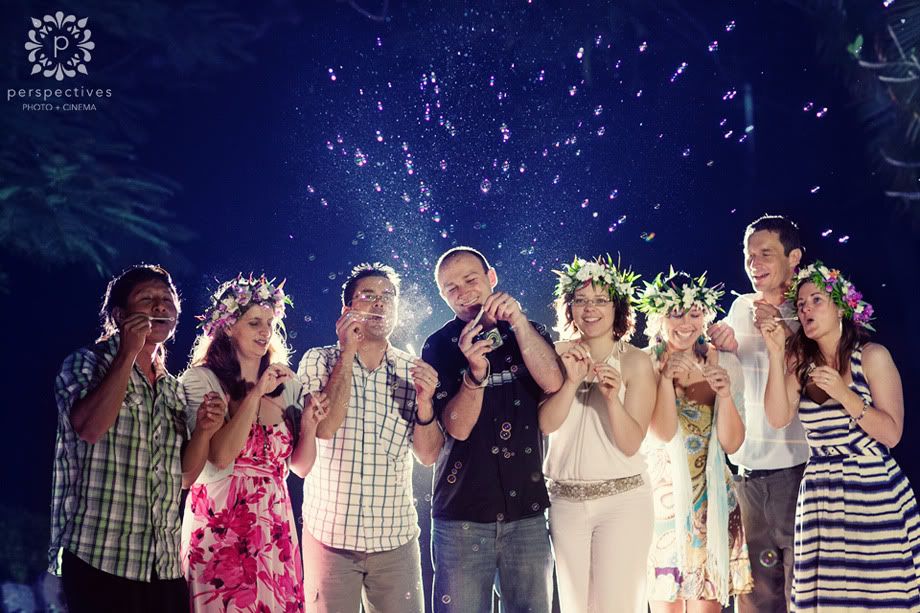 And here's the resulting image.
Just as we were packing up our gear – Amber made the most of the full moon splashing light over the lagoon – and captured this cool shot looking over the pool, with a few stars peeking out, and the moon lighting up the clouds above.
A few days later, we met up with Andrew & Nathalie again, for their 'trash the dress' shoot. It was a cool chance to venture a bit further afield, to locations we didn't have time for on the wedding day.
The sun was again out in full force for the beach shots – which really makes the colours pop.
We left the beach and headed inland – to get a bit more of a 'jungle' feel happening.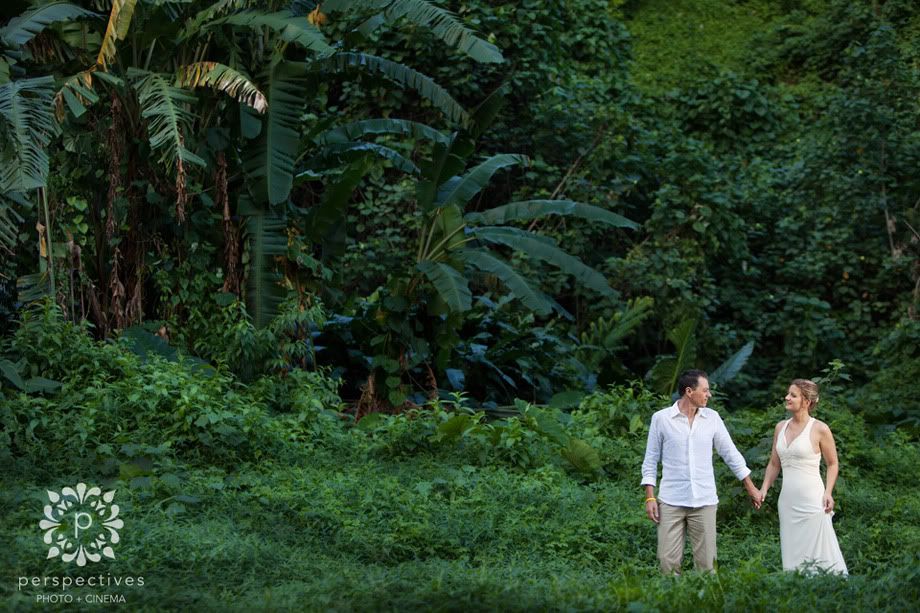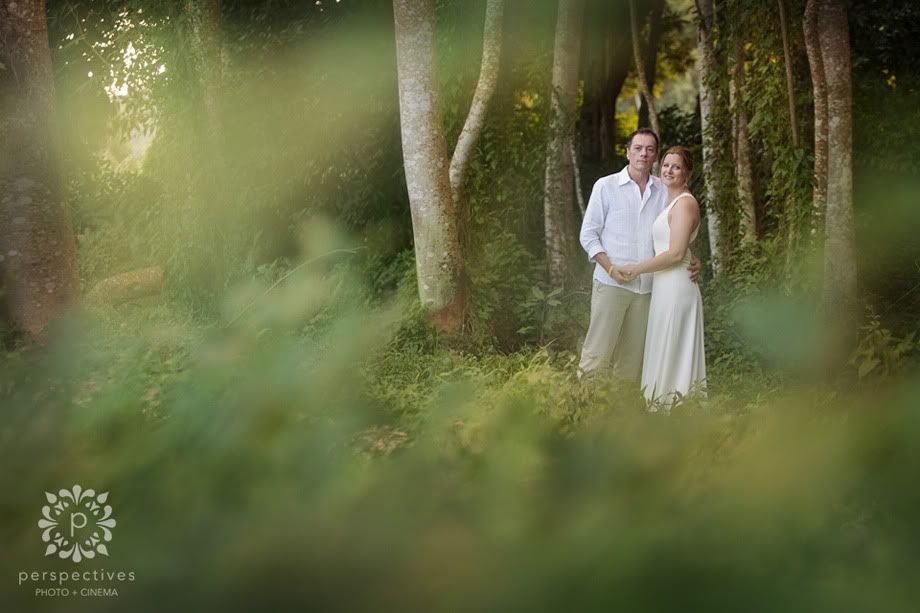 Our final stop was going to be the beach, where we'd get into the water for a few final photos. On the way, however, we came across this great field with backlight streaming across… so we stopped for a few quick shots.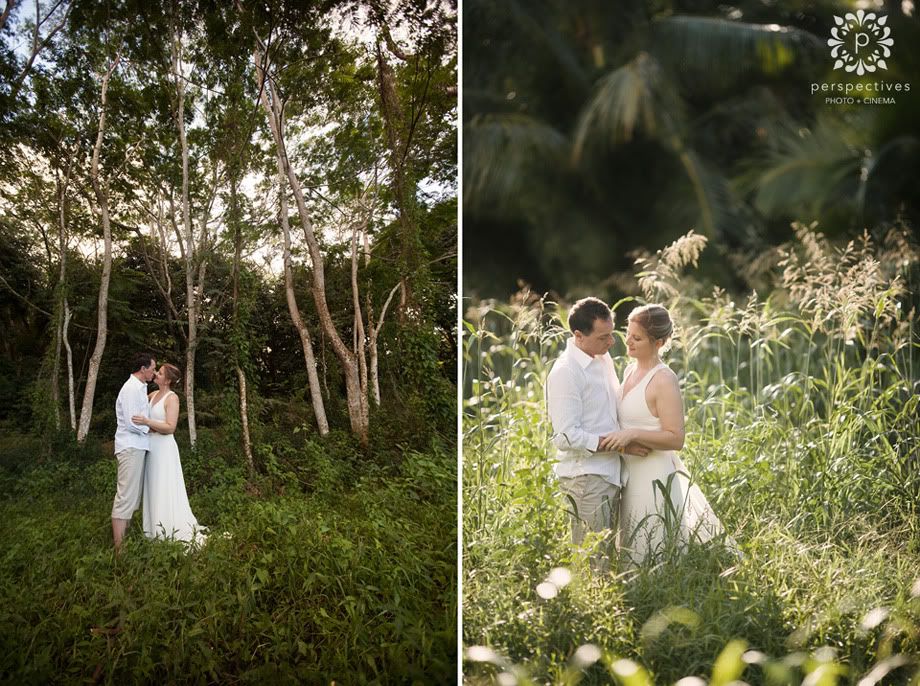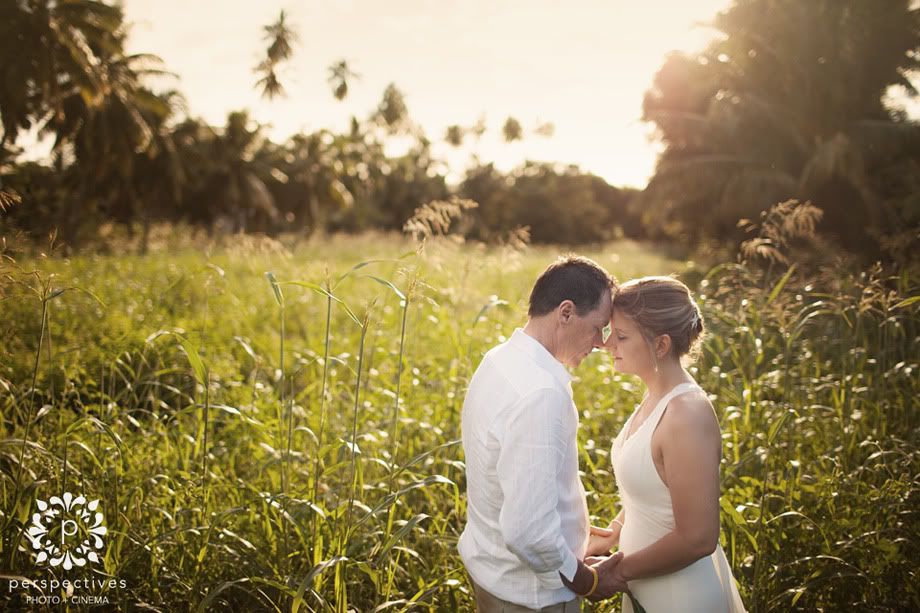 Time to get wet! We always delay the water shots until the very end of a shoot – it's pretty much the point of no return! Once everything gets wet, you don't want to be traipsing around inland again. The upside is that by the time we arrived after shooting for a few hours, it was really refreshing to jump into the water.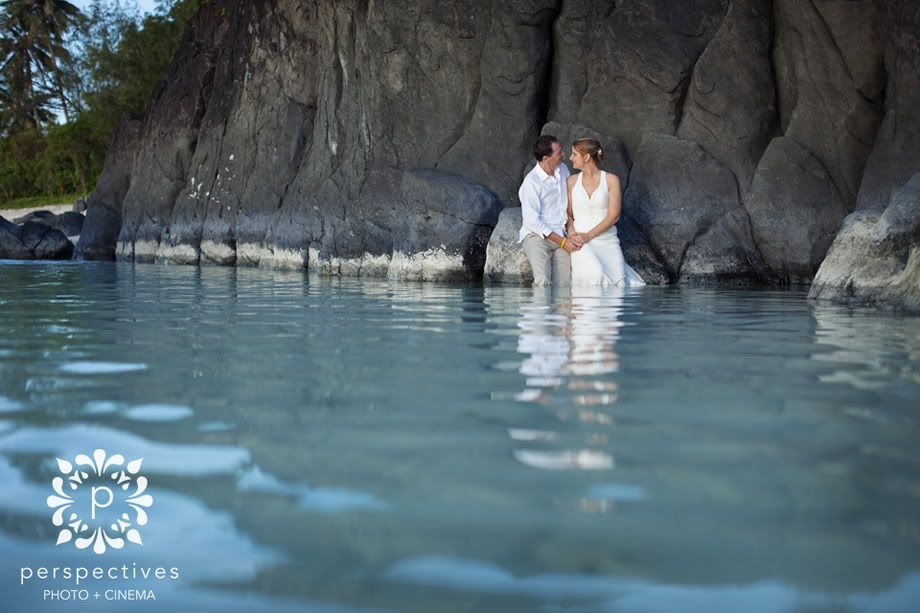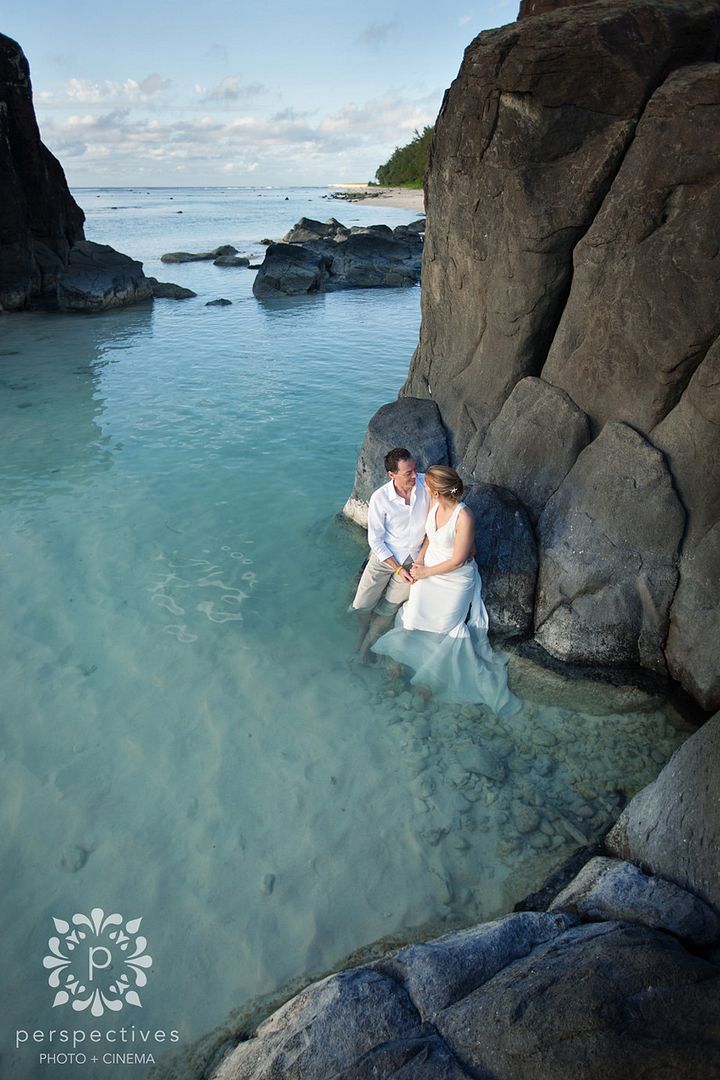 I love the shadow on the water in the foreground of this next shot. It makes for a really cool shaped spotlight around Nathalie & Andrew.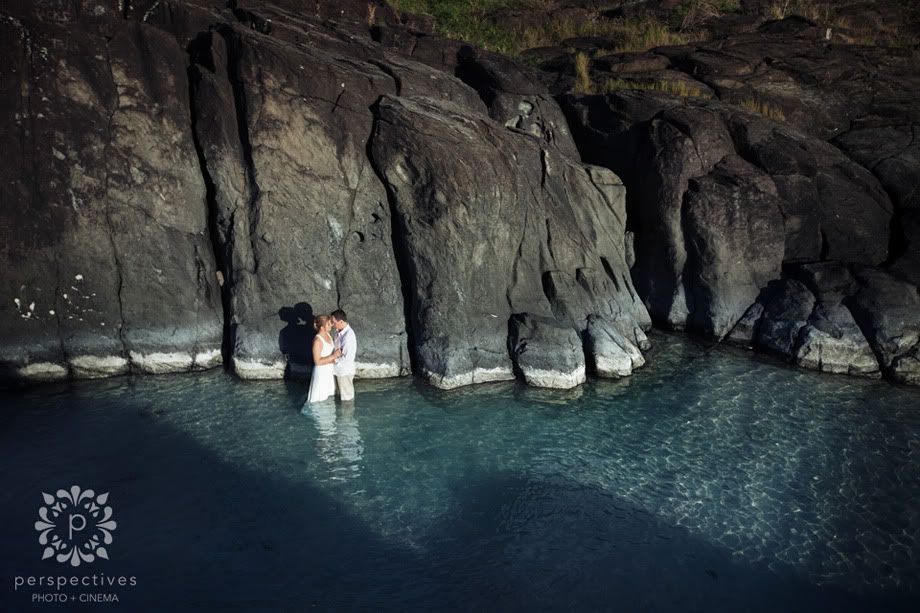 Amber was right down at water level for this next image. Standing in water up to her chest, with the camera held up above her head, and then gently lowered right down until the strap was brushing in the water… Nathalie decided we needed someone taking behind the scenes shots of us at work, and the crazy situations we manage to get into!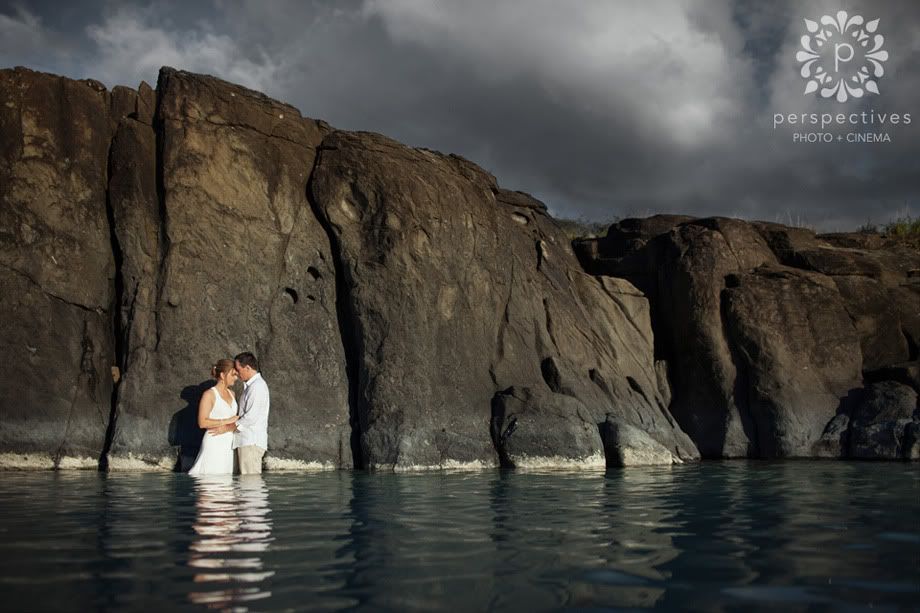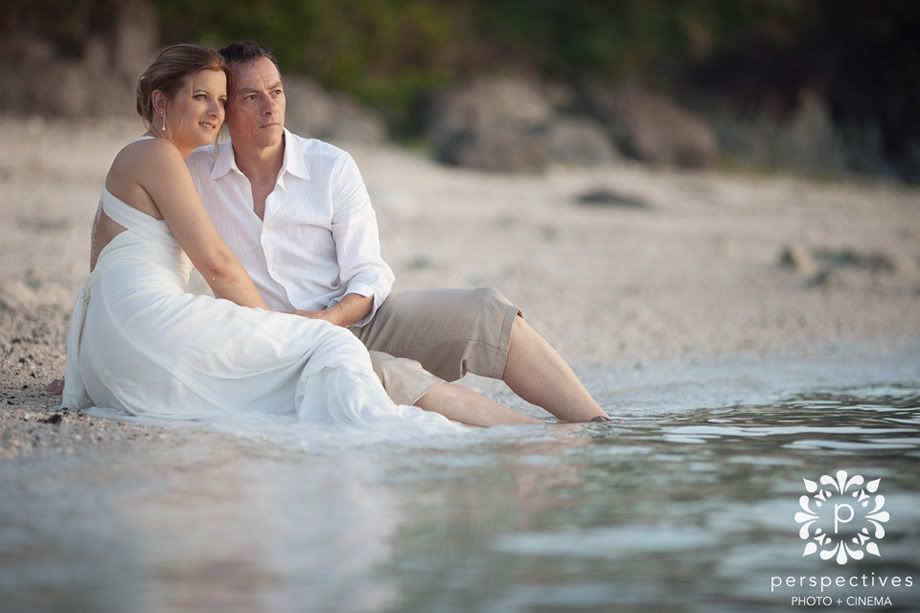 We were even treated to another gorgeous sunset. Not often you get that for two consecutive shoots!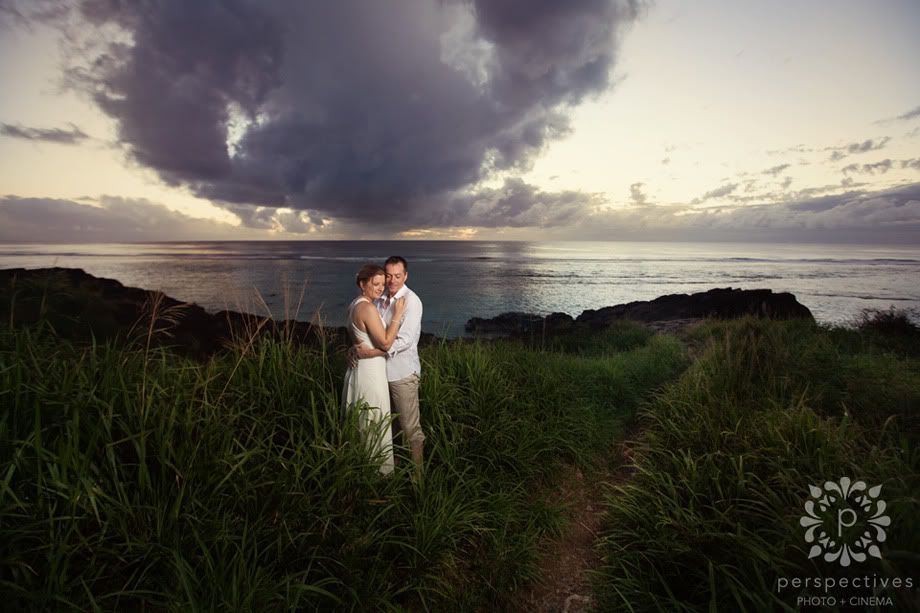 And that was a wrap!
We shared a bottle of champagne, poured out on into glasses balanced on the roof of the car, as we stood on the side of the road and watched dusk fade into night.
If you've enjoyed these images – make sure you head along and 'like' our Perspectives Photo + Cinema Facebook Page – where you can stay updated with all our latest creations.
Andrew & Nathalie – thank you both so much for having us along to share a part in your beautiful island wedding. Your love for one another just shined through, and was an absolute joy to capture. Kia Manuia.
Isaac & Amber.