Hey everyone – Happy New Year to you all!
We're back from our Milford Sound trip, which was so fun – wet, but fun!
We've even rustled up a few photos to share with you!
We began our trip in Te Anau – where we stayed for a few nights. Here's the amazing lake backdrop: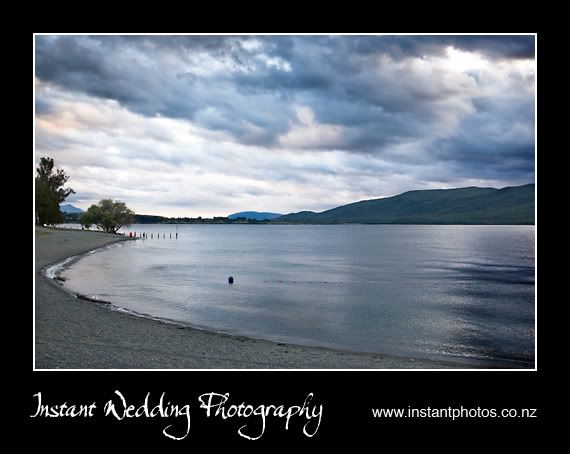 We went across to the glow-worm caves – well worth the trip (even though we couldn't take photos inside there – so here's one of Amber on the boat on the way across!)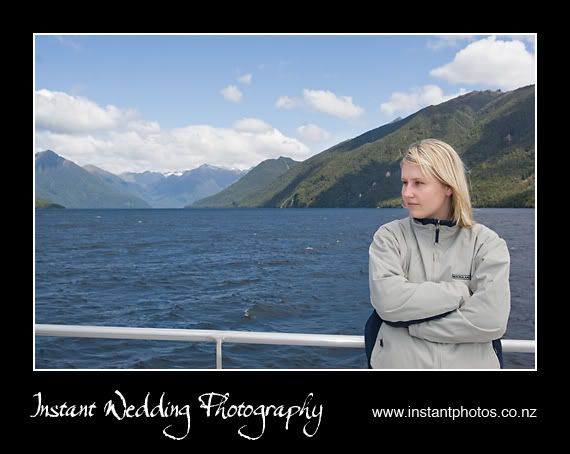 A few days in, we drove the Milford road down to Milford Sound. This is definitely my official favourite road in New Zealand – the scenery is incredible.
Here's Amber in a huge field of wild lupins
Isaac staring vacantly into space
A field I'd love to shoot wedding photos in
And the famous Homer Tunnel.
At this point, the plot thickens. While waiting at the Homer tunnel entrance for the lights to turn green, we noticed tourists gathering around with their cameras, pointing down towards the ground. A quick investigation revealed about 5 beautiful kea, who didn't mind the attention at all!
Here's one of them
We fell in love with these cheeky birds while in the Milford Sound, they really are just as mischievous as popular culture suggests. Here's two sitting on a rack of mountain bikes from a hire company. Luckily the trailer of bikes wasn't there long, as they were making short work of destroying handgrips, tyres, anything they could get their beaks into!
They even came and sat on the deck of our Milford chalet every evening – here's one up nice & close.. (they loved to peck on the glass window, and I'm sure wouldn't have hesitated to come inside if they had the chance!
Which brings me to our gorgeous Milford accommodation. It was right on the riverfront – which was kinda scary when a big storm came through and we watched the river creeping closer & closer to our deck – luckily it subsided just as quickly. This is the view from inside – & us chilling out at the table!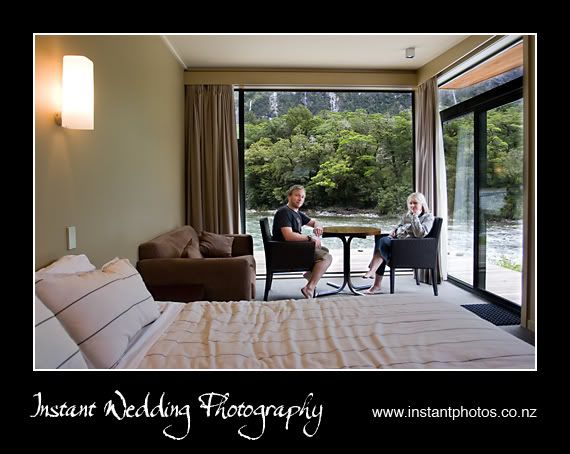 And the view from our front deck:
Later that evening I headed out during a break in the rain to hunt for some rivers. I had in mind the quintessential Fiordland shot – mossy trees overhanging a flowing creek, and didn't have to look far!
On my return, I was just in time to catch the sun setting over the sound: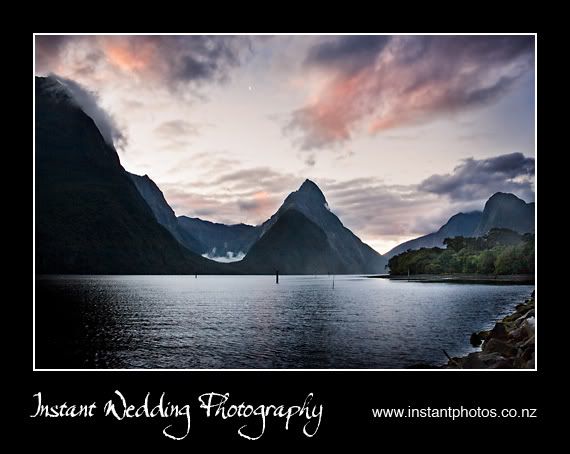 The follwing day, we took a cruise on Milford Sound, right out to where it meets the Tasman Sea on the coast. Here's a few images looking back towards the sound from out at sea: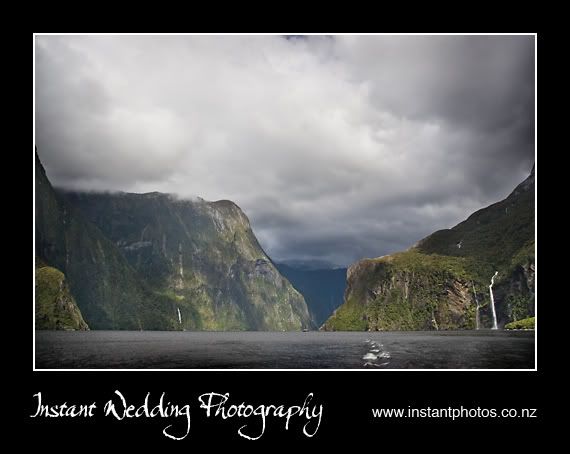 And there were some amazing waterfalls – all that rain was good for something!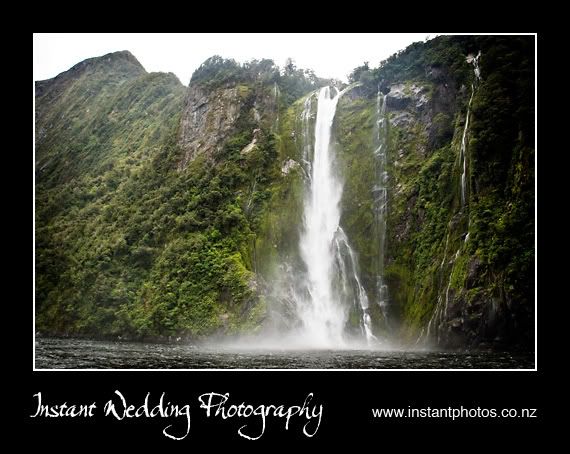 Here's a resident seal
After three days in Milford, it was time to head back to Queenstown. On the way, we stopped in at Lake Manapouri – and avoided the sandflies while quickly setting up the tripod & running in front of the camera on timer delay to get this shot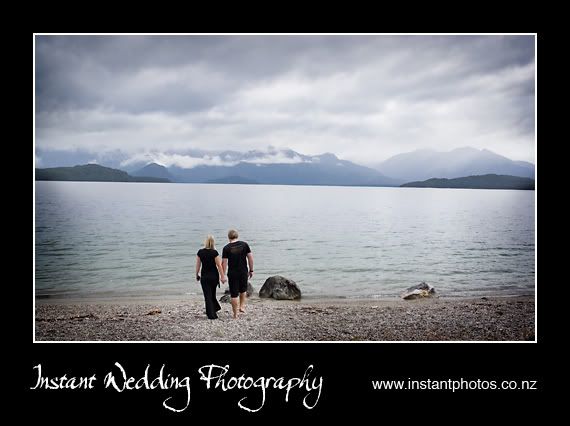 On arrival in Queenstown, we headed across to Glenorchy – which was where they filmed a good deal of the Lord of the Rings trilogy. The scenery was spectuacular – this was a side of the road shot halfway there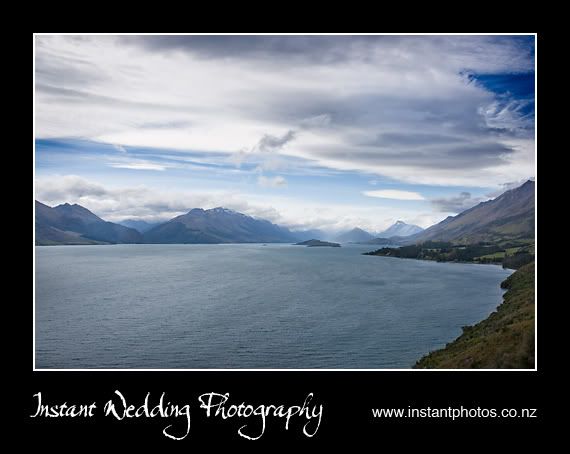 Once we arrived, we had a bit of a play with the camera gear – an old red shed was beckoning to us, so we set a flash up off to the side (dangerously attached to the tripod with stretchy-ties) and got this shot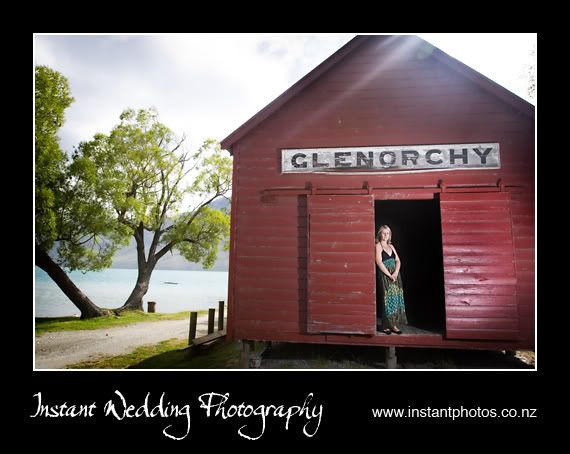 Then we decided to move the light inside the shed to get some backlighting – and it resulted in this shot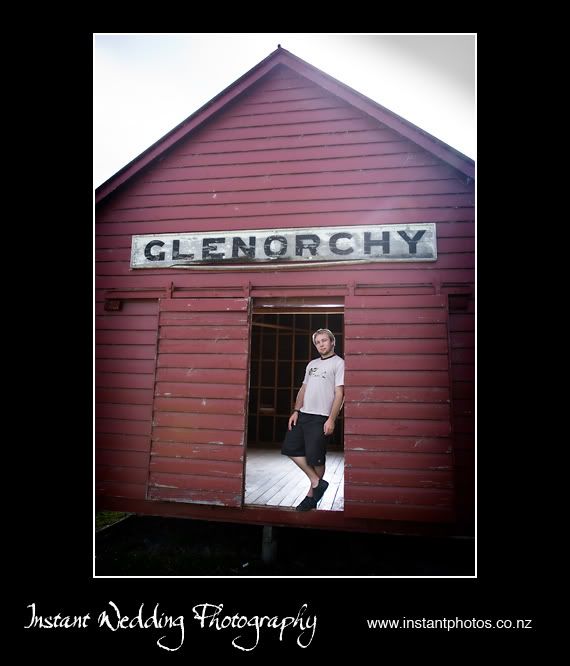 Finally, we used the light to balance out the bright background in this shot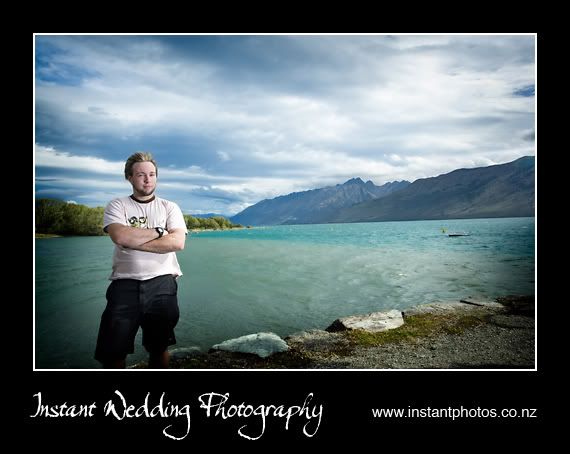 To finish off, I've thrown in 4 panorama shots I took at various places on the trip – they look really small on the blog as they are so long & narrow – but full size they're quite spectacular! These consist of about 14 shots each, as I slowly move through a 180 degree turn, and then stitch them all together on the computer.
Milford Road x 2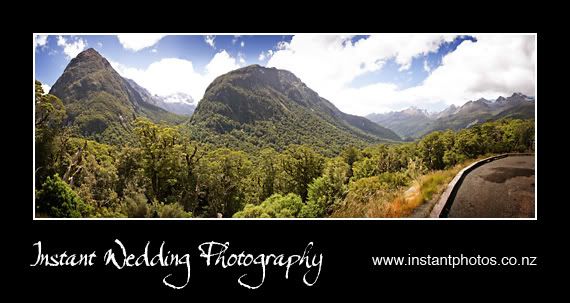 Milford Sound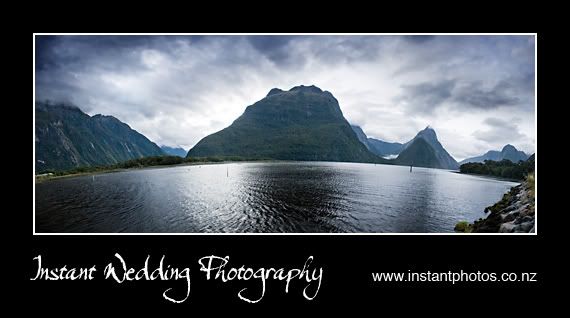 Glenorchy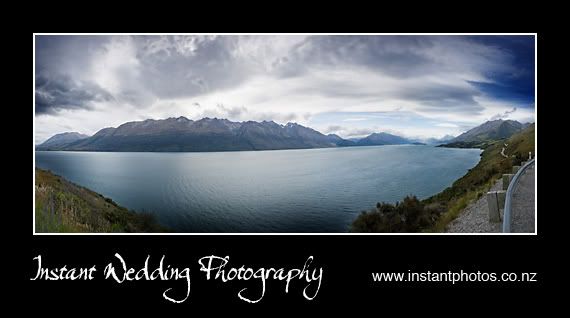 So there you have it – 7 days of rain, reading books, and photography – which was really relaxing. We're now right back into it as the height of the "wedding season" approaches – so stay tuned for plenty of sneak previews ahead, plus a "5 ways to get better wedding photos" guide.
Isaac & Amber.