29th May – Richard & Bailey's wedding reshoot
A while ago, we ran a competition on our website where we decided to give a deserving couple their wedding photography for free.
The winning couple were Richard & Bailey – but there was a twist…. they were already married!
Their wedding was in summer up in Northland, on a gorgeous day, on a beautiful beach. Unfortunately, when they received the photos back from their photographer, they were really disappointed with the results.
They really wanted to do a reshoot of their photos, but having just been through the expensive exercise that is a wedding, they couldn't afford to have their photos redone.
So it was really special for us to be able to help them out. We also had some fantastic colleagues from the industry jump on board the karma train to pay it forward – which was fantastic.
On Sunday, the day for the reshoot arrived. So did the rain. It was pouring down in the morning when we met up with Bailey at Belle-zza Salon in Hamilton.
Belle-zza had kindly volunteered to do Bailey's hair completely free, and the stylist was none other than Tracey – one of our brides from over a year ago!
Next stop was makeup, so we headed around to meet up with the bridesmaids.
Denise from Spoilt makeup kindly volunteered her services, and did makeup for Bailey, her two bridesmaids, and her mum!!
We have worked at quite a few weddings with Denise now, and she does a fantastic job!
We grabbed some shots around the house with Bailey and her bridesmaids…
and then it was off to Raglan to meet up with Richard & his groomsmen.
We caught up with them at the Orca cafe, and the rain (which had been steadily pouring down all day) looked like it might ease up.
We hid in corners & sniped away as the boys got dressed (in the cafe!) and then had time for a few quick shots before Bailey & bridesmaids arrived.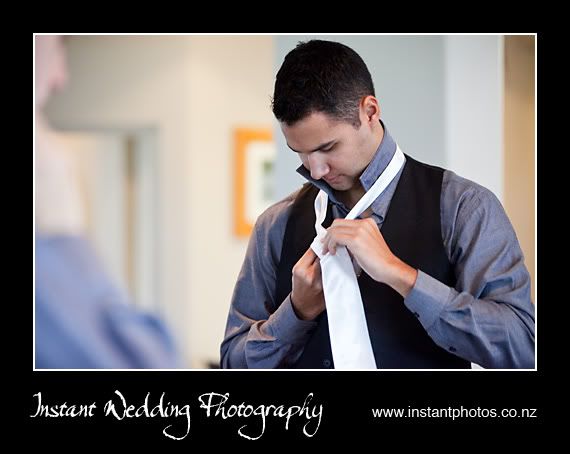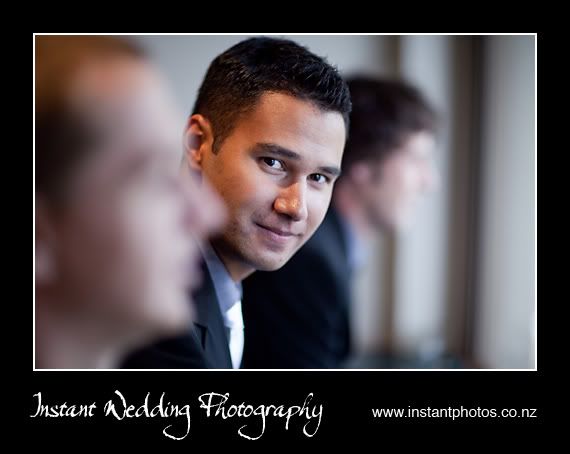 Once everyone was together, we went across the road for a few family photos – as their families had also made the trip out, to get some nice shots with Bailey & Richard.
It's at this point I must sincerely thank my friend & fellow photographer Nicola Inglis for the loan of her white umbrellas for the day – I know everyone appreciated staying dry!!
While everyone was trekking back up the hill from this little wharf, we snuck a few quick shots with just Richard & Bailey…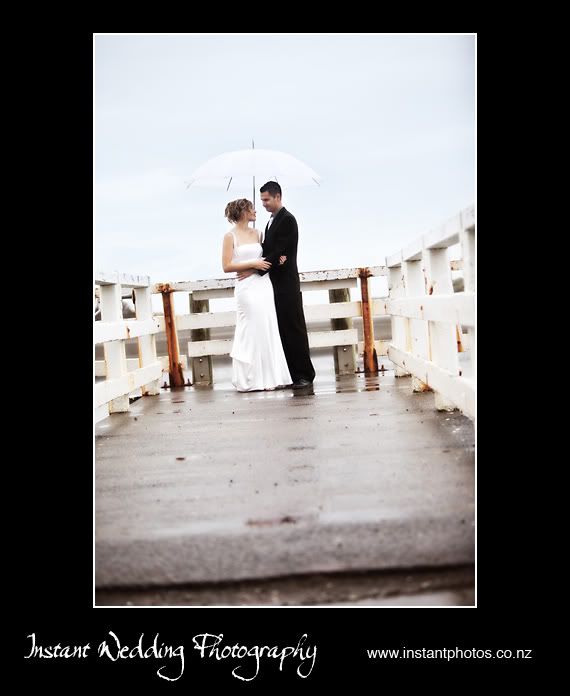 and then it was off to the beach!! Perfect day for it!! (and I'm not even joking).
By this stage, the rain had actually stopped – great timing! The cloudy, dramatic skies remained – and our regular blog stalkers will know that we like clouds!!
It was still cold though – well done to the bridesmaids for surviving it!
I believe that "huddling for warmth" may have played a role though…
Meanwhile, Richard & groomsmen were unaffected by the cold – they were to engrossed in the complications of the 3-way game of "peaknuckle war" …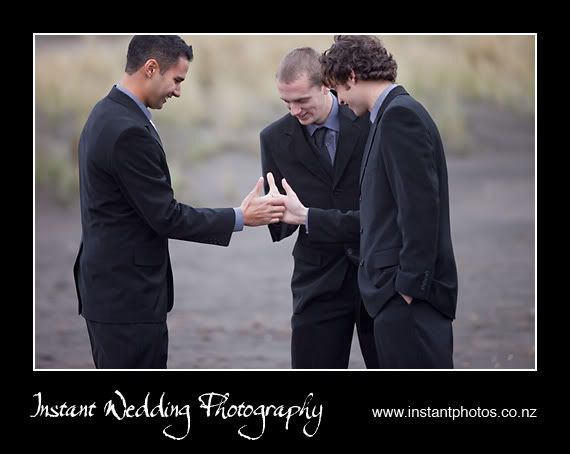 We got our gear out of the car & dragged the lights, batteries, and various photography related gadgets down on to the sand, and had a bit of a play. Here's what we came up with…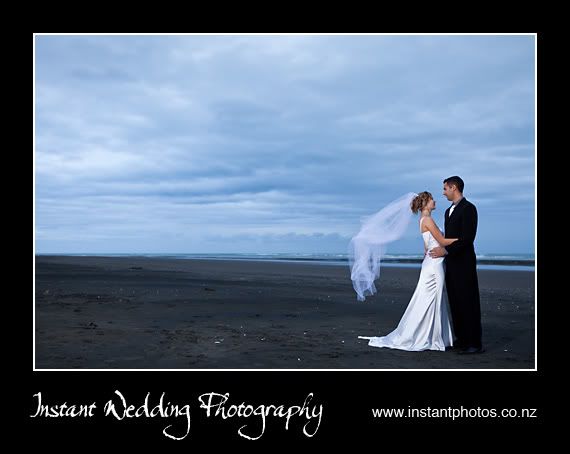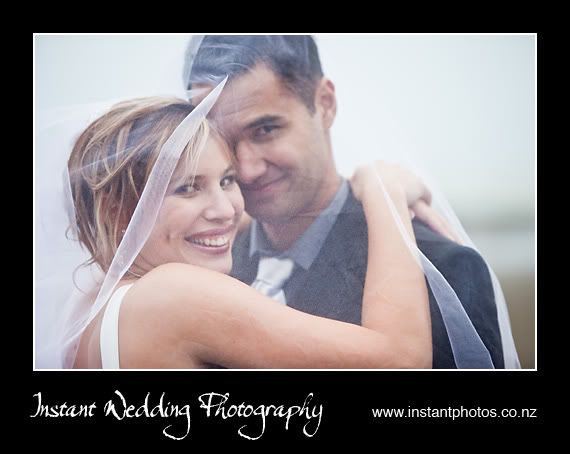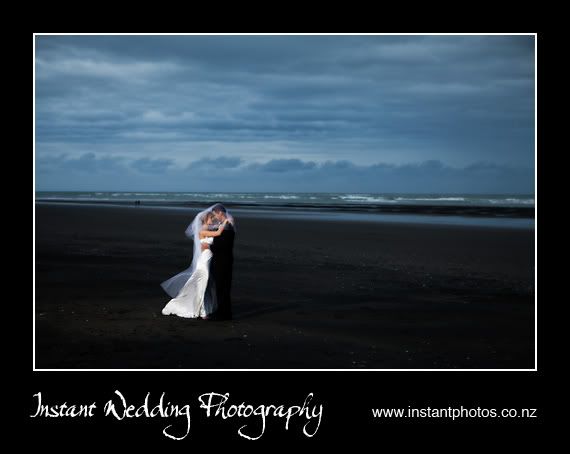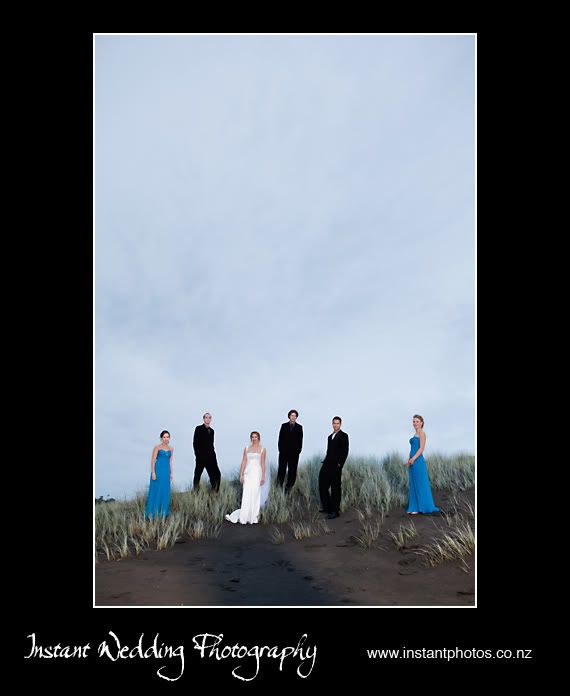 Darkness was falling now, and we wanted to try squeeze in one last location – the rocks down at Whale Bay.
We decided that we'd just take Bailey & Richard down by themselves – as we'd only have 10 minutes of light left. It was at this point that things went downhill – literally.
As I was negotiating the slippery rocks, my feet suddenly shot out from under me – and I went flat on my back. I was holding my lights in one hand, a big battery pack in the other, and had a camera round my neck. End result = lots of bruises, a smashed light, and a bent lens. Bummer!
All was well though, as everything still actually works – so that was a relief!
As I had broken the bulb for the light, Amber had to shoot this last image in near total darkness – and it's amazing!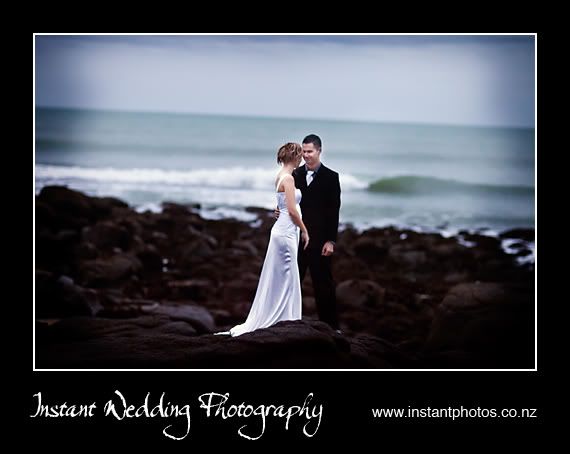 The story doesn't end here though – our initial blog post about wanting to "pay it forward" was read by Mike, our canvas supplier at Giclee Print – and he has kindly offered to donate a free canvas, for Richard & Bailey to get an enlargement of their favourite image.
Fantastic stuff!!
We were really humbled to see so many people pull together to give Richard & Bailey a special gift – and stoked that their bridal party & families were happy to make the effort to get dressed up and travel to Raglan in the terrible weather.
Enjoy the photos – and we'll have some more up soon!
Thanks again to Belle-zza for the hair, Denise @ Spoilt for the makeup, and Mike @ Giclee Print for the canvas – you guys rock!!! (and Nic for the umbrellas!!).
Have a great week – and why not pay it forward – donate one of your skills to someone, just coz you can!
Isaac.