16th March – Drown the Gown – Ken & Laura
Hey guys,
I'm sure all our blog-stalkers out there will remember the lovely Ken & Laura, who were married in Te Aroha last November.
Today, they dressed back up in their wedding outfits & met up with us for a really fun shoot!
Holly also came along, as she had photographed Ken & Laura's wedding with us, and we were all excited about the prospects of the afternoon!
I loved this session – it is a wonderful feeling to be able to shoot whatever you like, without the time constraints of having to be back at the reception by a certain time; without needing to stress about guests waiting while you're away; and without having to worry about keeping the dress quite so pristine!! All together, this adds up to the chance to really relax & enjoy the shoot – and get some stunning images that obviously aren't possible on the wedding day itself… you'll see why!!!
We started off with some cool shots at the top of the big waterfall…
We also found a cool little stream, surrounded by native bush. Check out the difference between what your eye actually sees (first shot) and what we can create with a little carefully added light and Amber behind the camera…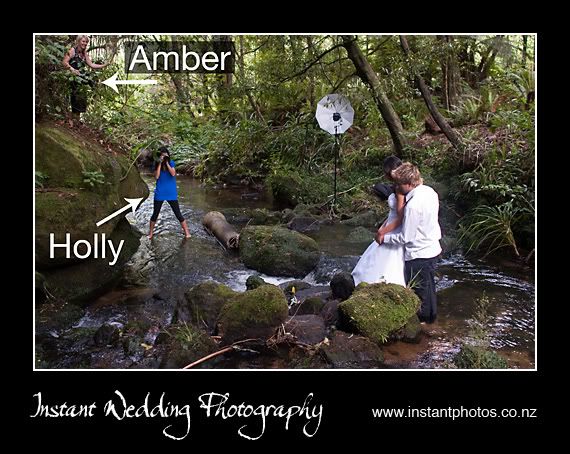 We then decided to get their feet a little wet – moving out to a rocky outcrop in the middle of the stream – I love the first shot here, Laura looks like a mermaid poised there on the rock!!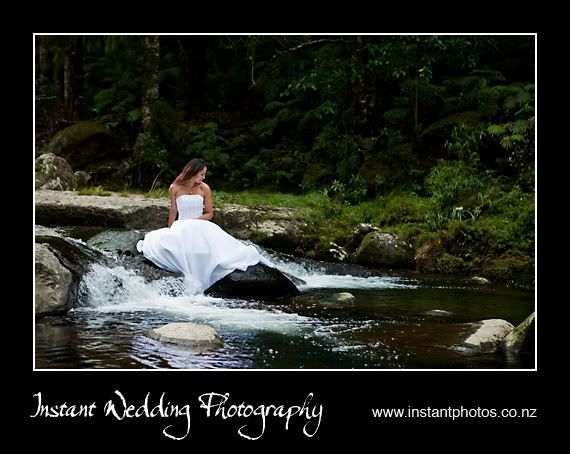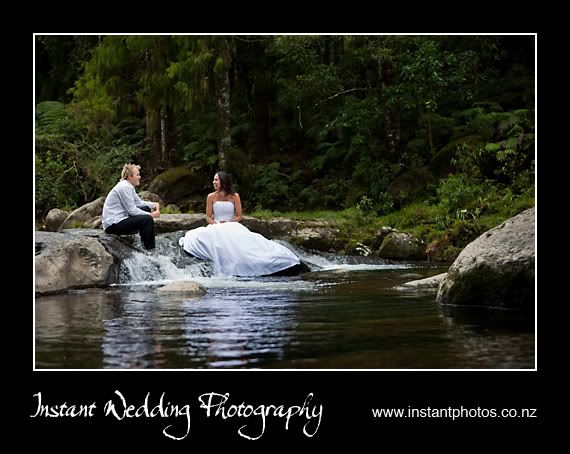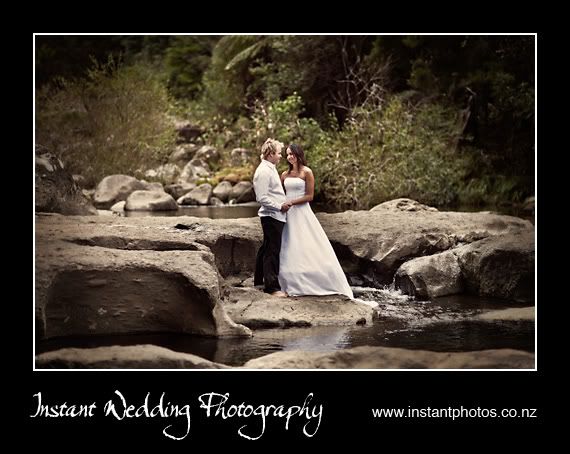 We decided to take things a bit further – Laura was keen to get right into the water, so in she went! Ken followed – making for some awesome shots!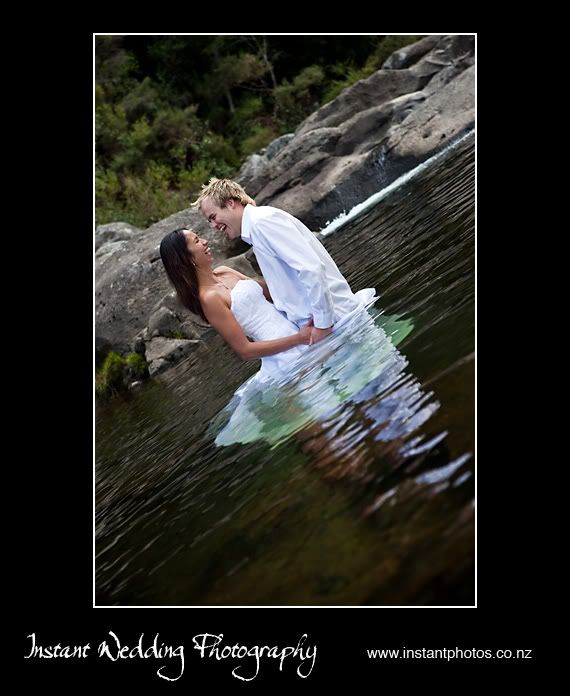 Earlier, I had promised that I wouldn't ask them to do anything that I wasn't prepared to do myself… so I was duty bound to get in the water!! (also because it was fun making Amber stress about me having thousands of dollars worth of camera that close to the river!)
It was worth it though – as this is the angle I was able to shoot: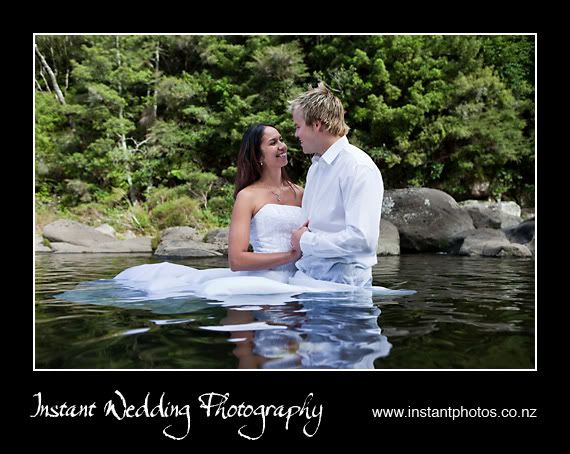 We finished off by the waterfall again – this time right down at the base to get a real sense of the water cascading down the rocks…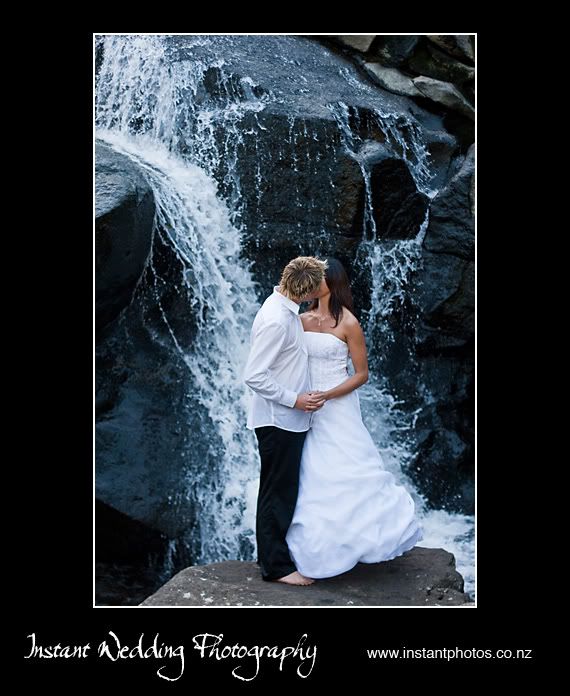 There was an awesome angle further down the cliff – but it looked too hard to access, amd we couldn't be bothered climbing – so we sent Holly down!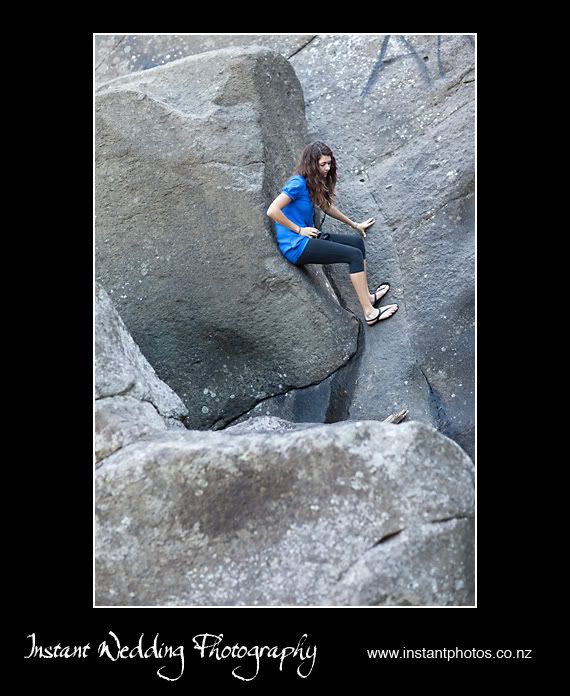 Not really – I didn't even notice the angle – Holly climbed down there on her own initiative and I'm jealous that I didn't see it!. She also came up with this image:
I love the vintage effect over that one – it really warms it up & makes the shot feel much more comfortable – here's what it actually looked like in there (me checking that the water wasn't too deep)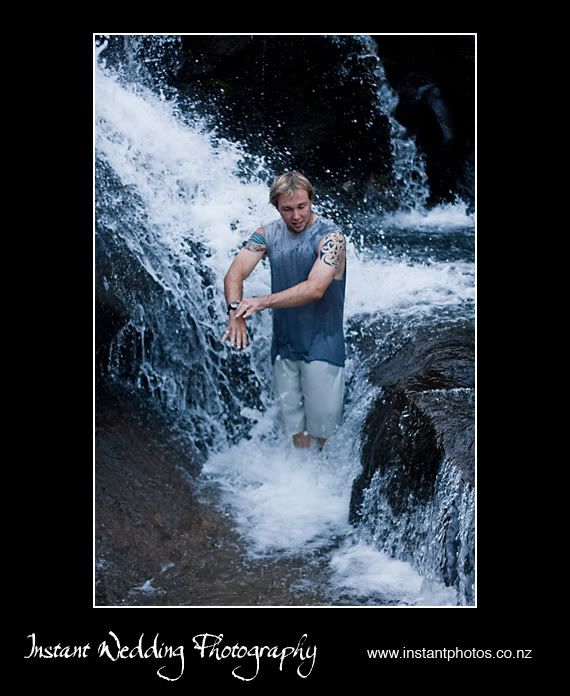 Just as we were calling it a day, Ken said that we should get a shot of them *in* the waterfall… that suited me just fine!! So here it is – one of my favourites from the whole day: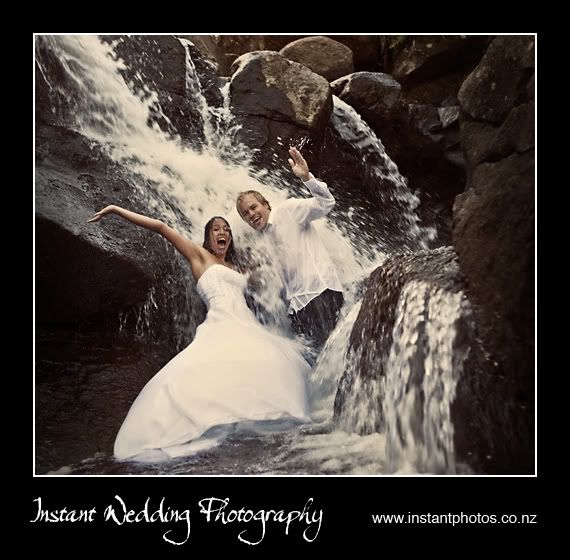 Not to be outdone (and because 3 hours of shooting gets hot!) I decided to jump in too – and of course couldn't avoid the inevitable photo…
The final images of the day are a soggy Ken & Laura sharing a kiss in front of a stunning backdrop – a fitting end to a really fun afternoon!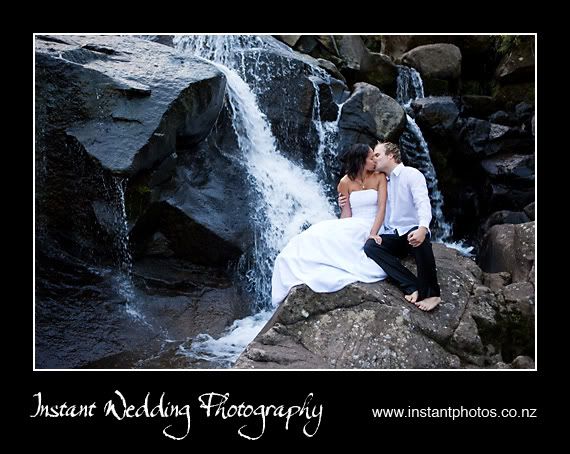 Enjoy the photos – because we very much enjoyed taking them!
Isaac.