Same Day Edit Wedding Video – The Lite Version
This year we've been pushing the boundaries of how we showcase our cinema. We've ventured into producing Same Day Edit videos for our couples.  That's filming and editing together a video of the couples wedding day to be featured at their reception THAT VERY NIGHT!
We offer Full Same Day Edit wedding video which you can check out here.  But as a second option we're also now offering a Lite Version of the Same Day Edit video!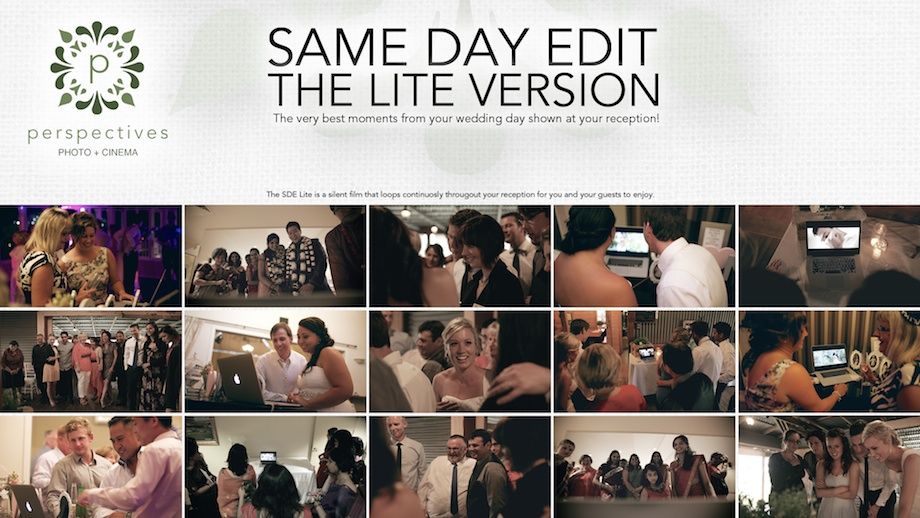 This film differs to the Full Same Day Edit in three ways:
It's silent.  So no music or audio.  The film plays continuously on our laptop which sits near the guest book or presents table at the reception. This means your guests can watch it in their own time throughout the night.  And thirdly it's also a more affordable add on to your wedding package than getting a Full Same Day Edit film.
The SDE Lite Version adds a great buzz to your reception.  It's a surprise your guests weren't expecting and you get to re-live the coolest moments we caught throughout your wedding day!  And because it's played continuously throughout the night the buzz of having an SDE video just keeps on going!
I've included some of the SDE Lite films we've created below for you to check out.  For the purpose of showing them on this blog I've added some music to them.  Because your reception is full of chatter and the DJ's music, these films are silent when played at your wedding.
Josh + Candice's Same Day Edit Lite Wedding Video
Arthur + Aradhna's Same Day Edit Lite Wedding Video
Chris + Natalie's Same Day Edit Lite Wedding Video
If you like our wedding videos, follow us! Head along and 'like' our Perspectives Photo + Cinema Facebook Page – where you can stay updated with all our latest work.